A Nightmare On Elm Street 3D Sequel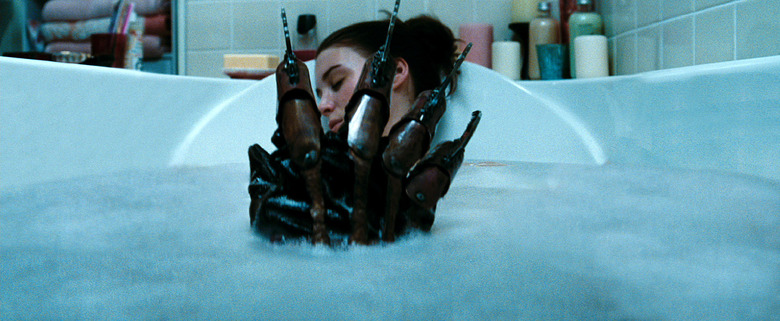 Platinum Dunes A Nightmare on Elm Street remake "killed" (pun intended) at the box office this weekend, taking in over $32.9 million domestically in its first outing. This is the biggest opening for the Nightmare series, and the largest horror opening for the months of both May and April. Apparently this was enough to get Warner Bros/New Line to commit to a 3D sequel.
The Wrap offers the following quote from Warner distribution president Dan Fellman:
"We don't have a story yet, but this is the largest horror opening in the April-May corridor, and it just proves there's a lot left in the franchise."
Producer Bradley Fuller recently told Dread Central:
We think that 3D movies have to be designed and written as such. If Eric (Heisserer) and Wesley (Strick) came to us with a Nightmare sequel script that is for a 3D movie, we'd be fools not to make it. Using 3D for a Nightmare sequel has to work conceptually for us, though. I don't want to shoehorn the story just so we can use 3D technology. I do really think this movie and the visual style would work well within a 3D environment, though, so you never know.
But will director Samuel Bayer return? When we talked to Bayer in early March, he told us that he would not be interested in returning for a sequel:
I really hope the film does well. I will not be involved in a sequel...I don't want to have my next movie be a horror movie. I'm already looking at stuff and I think I'm probably going to do a– it might be an action movie, or there's a comic book they want to make into a film I'm very attracted to. But I think I'm going to move on and let someone else handle the next one, and it'll be great.
At the time Bayer was hoping to move on to a big screen adaptation of Garth Ennis' comic book The Boys.
There's one comic book I really dig that I want to go after that's bad-ass. I'd like to get it, it's called The Boys. It's about a group of mercenaries and they're job is to kick the shit out of superheroes who get out of line. It doesn't get any better than that. In the world of The Boys, superheroes are scumbags.
But recently Anchorman director Adam McKay has been tipped to helm the movie. More recently Bayer has backpedaled on his previous statement saying that he meant that he didn't want to do another horror movie as his next film, and would be open to another Nightmare film if the script were right. The questions are: will WB/NL fastrack a sequel into development and are they willing to wait for Bayer to go off and make his "non-horror" movie before going into production on the 3D sequel.