/Film Boston: Micmacs Movie Review And Closing Thoughts On IFFBoston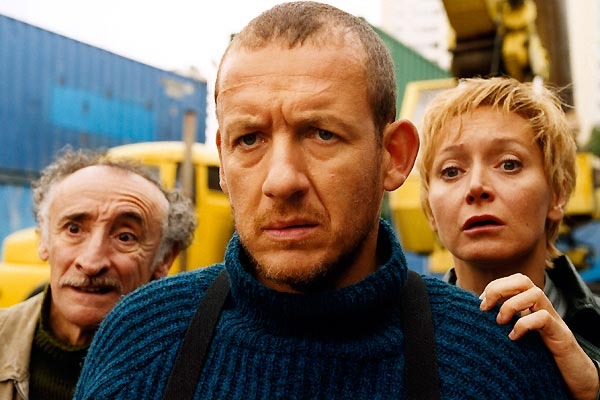 Lots of cool film-related stuff happens in Boston, Massachusetts and not that many people are here to document it, preserve it and spread the word about it. Special screenings, Q&As, panel discussions — we have them all, and frequently too. /Film Boston aims to be a bi-weekly column that will bring you audio and video content from film-related events around the Boston area. If you don't live in Boston, I hope that this column will give you a window into some of the cool stuff that happens here regularly. If you do live here, hopefully you'll come here to get the heads-up on what's been going on, and what is to come.
I think people often forget that as charming and ultimately light-hearted as Jean Pierre Jeunet's Amelie was, it also had a pretty deep mean streak. When Amelie wasn't bringing magic and joy to the lives of others, she was totally screwing with Mr. Collignon. Granted, Collignon deserved what he got, but the movie wants us to revel in as much in his misery as it does in the pleasure of the other characters.
Jeunet's Micmacs unabashedly takes this revenge sentiment to the next level. Bazil (Dany Boon) is a man whose father was a soldier killed by a landmine. Decades later, Bazil is working at a video store when a freak accident causes him to get shot in the head. Bazil survives, but left without a job, he takes shelter with an eclectic group of misfits in a junkyard, selling scrap to get by. Bazil eventually stumbles upon the two rival weapons manufacturers that created the landmine that killed his father and the bullet lodged in his skull, both conveniently located across the street from one another. Together with his newfound friends, he plots elaborate revenge on those that have wronged him and his family.
With the possible exception of our protagonist, the characters here are paper thin, often defined completely by a single, quirky character trait (Among Bazil's newfound friends, there's the dude who builds elaborate, bizarre animatronics, the female contortionist, the guy who speaks only in idioms, the human cannonball, etc.). Their motivations aren't really ever explained, and their friendship with Bazil never feels plausible; they simply exist as cogs in the machine of Jeunet's movie, as well as cogs in Bazil's elaborate pranks on his enemies.
That being said, these pranks allow us to delight in the flummoxed plans of these despicable human beings, who presumably traffic in destruction and death. Boon's comedic timing brings some great laughs throughout, and Bazil's Rube-Goldberg-ian machinations are matched by the complexity of the devices that are used to bring them to fruition. The joy of this movie is seeing weapons dealers get a taste of their own medicine through a series of increasingly intricate plots. Who doesn't enjoy that?
And what more can be said about how good Jeunet's movies look? Micmacs is achingly beautiful, employing the muted, old-style palette that is so common to Jeunet's films. I believe this is Jeunet's first collaboration with cinematographer Tetsuo Nagata (who also did Vincenzo Natali's Splice), and if this is the result, I hope they can work together again in the future. There's plenty of the impossibly smooth camera work that has become the hallmark of Jeunet's work, and if you've liked the look of his previous films, this movie delivers the goods too. Production designer Aline Bonetto also deserves some credit, as the sets here are (as usual) impossibly elaborate while still maintaining a strong sense that it was all built by some do-it-yourself work ethic.
I found Micmacs to be a great time at the cinema and a sumptuous feast for the eyes, but ultimately inconsequential. Still, if you're a fan of Jean Pierre Jeunet, I think you'll have a great time. Micmacs will be out in theaters this summer.
This year was
eighth year, and I was incredibly impressed with the professionalism and smoothness with which the festival was run. I didn't think this year's slate was quite as strong as last year's, but that's less a comment on the festival organizers and more about the general state of indie films this year (See
my thoughts on this year's Sundance
too). Last year's highlights included The Brothers Bloom, Bronson, Best Worst Movie, We Live in Public, and Children of Invention, among others. That is a pretty difficult group of films to measure up to, but this year also had its gems; standouts for me included The Freebie, The Elephant in the Room, The Parking Lot Movie, and Life During Wartime, which featured a fantastic Q&A with director Todd Solondz. Unfortunately, I didn't have a chance to catch Down Terrace, Cell 211, or Marwencol, but I heard they were also excellent, and I look forward to seeing them in theaters later or on DVD.
For me, IFFBoston serves as a microcosm for the American indie film scene, gathering together some of the country's most exciting filmmakers along with an intelligent moviegoing public interested in original ideas. For a few short days, Cambridge, Somerville, and Boston, Massachusetts are transformed into a movie lover's paradise. Attending IFFBoston makes me excited for the present and future of independent cinema, and quite frankly, this festival probably one of the most enjoyable events I'm able to participate in on any given year. A lot of others agree, as evidenced by the hundreds of volunteers who donate their time, and by the core team of festival organizers who labor tirelessly each year without getting paid. At this point, IFFBoston feels big enough to command some big names, but not so big so as to receive the national attention it truly deserves. As a result, there is a palpable sense that this festival is being done solely for the love of movies, and there's something infectious and endearing about that. If you live in New England and didn't get a chance to go this year, I'd strongly urge you to check it out next time around.
You can check out the rest of our coverage of this fest by
.
***
Here's some other cool stuff that's happening in Boston in the near future (some info via the
). Information is subject to change, so always check with the source before trekking out to the screening:
Monday, 5/10, 7 pm – Lucky Days will have its Boston premiere at the
. Director Angelica Torn and her father, actor Rip Torn, will be on hand for a Q&A afterwards.
Thursday, 5/13, 5 pm -
The Museum of Fine Arts, Boston
will be hosting the MassArt Senior Animation Show, a series of short animated films by local students. Looks like it could be really interesting, and admission is free.
Tuesday, 5/18, 7 pm -
will be screening They Came to Play, which is a documentary about the Fifth International Piano Competition for Outstanding Amateurs. Suzanna Perez, Robert Finley, and Richard Einhorn, who appear in the film, will perform following the screening. There will also be a Q&A. Seems worthwhile for anyone interested in classical music and music competitions.
Thursday, 5/20, 7:00 pm - The Safdie Brothers will be at
to screen The Pleasure of Being Robbed and some of their other short films. The Safdies graduated from Boston University and their recent film Daddy Longlegs was chosen to be at Sundance this year.
Throughout the next two weeks - The
is presenting what they describe as "The first U.S. retrospective on the works of [Portuguese director] Cesar Monteiro."
***
For now, /Film Boston is an experiment, a movie travelogue of sorts. I know the camera audio/video quality can be better, but I hope you find it viewable/listenable, as well as entertaining and interesting.
Hosting an event in Boston that you want me to cover? E-mail me at slashfilmcast(AT)gmail(DOT)com. Readers should also feel free to e-mail me if you have any other feedback, or any ideas of what you'd like to see here. What do you like about the column? What don't you like? etc.
Like /Film Boston? Subscribe to it by RSS or by e-mail below to receive updates automatically:
Delivered by