Winter's Bone Trailer And Poster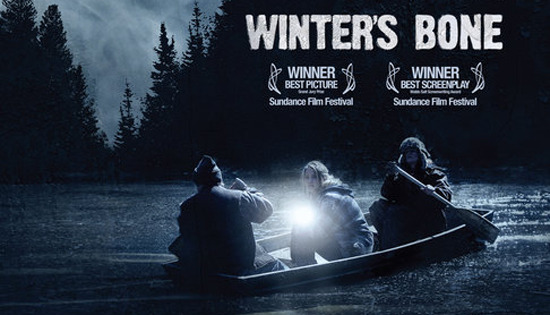 We missed posting this earlier this week, but I can't totally pass up the chance to highlight the trailer for Winter's Bone, the Grand Jury Prize winner at this year's Sundance Film Festival.
I quite like the look of the photography here, which is mostly naturalistic, but with a tinge of something fantastic, like the edges are just starting to fray. Add moments with Garret Dillahunt, John Hawkes and Jennifer Lawrence, who has been getting the breakout performance accolades this year that were showered upon Carey Mulligan in 2009.
The film, Debra Granik's second, adapts Daniel Woodrell's novel about 17-year old Ree Dolly (Lawrence), whose father has disappeared, leaving her family in dire financial straits. The trailer lays out the basic conflict pretty well, and shows you some of the people and attitudes with which Ree has to contend.
Typically I'd be in danger of being a bit put off by the Ozarks and trailers aspect of Winter's Bone, but in Lawrence and John Hawkes I see glimmers of the work that has been praised loudly since Sundance. The New York Times just ran a piece enthusing over Hawkes' work. ("...a villain worthy of Shakespeare, a lean and hungry man who often seems murderous because he probably is...There are moments in this film when Mr. Hawkes moves with the focused intensity of a cheetah seeking prey. He is mesmerizing.)
Not like I needed their confirmation, as I've always liked the actor, but such effusive praise does have an effect.
If you want the more straightforward take in official-speak, here's the synopsis:
Winner of the 2010 Sundance Film Festival's Grand Jury Prize and Waldo Salt Screenwriting Award, this tense, naturalistic thriller follows 17-year-old Ree Dolly as she confronts the local criminal underworld and the harsh Ozark wilderness in order to to track down her father, who has put up the family homestead for his bail. Featuring a star-making performance by Jennifer Lawrence, Winter's Bone is sure to be one of the most-critically acclaimed films of the year.
In addition, under the trailer, there's a clip from Sundance of director Debra Granik talking about the film. Winter's Bone just won the Special Jury Prize and Audience Award (Narrative Feature) at the Independent Film Festival Boston. The film sees release on June 11 via Roadside Attractions.