Platinum Dunes Moves Towards Action With 'Heatseekers'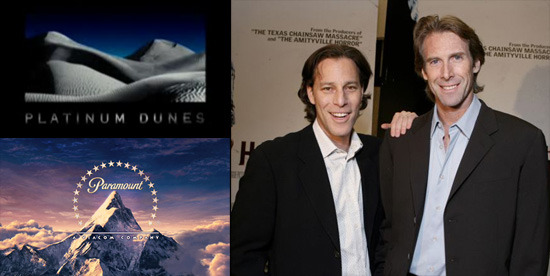 Platinum Dunes has so far been known for horror remakes and one or two original films. But the label is preparing to branch out, thanks in part to a first-look deal with Paramount to make genre films on frugal budgets. The planned Ouija Board movie has an action-adventure bent, for example. Now Dunes has bought the script for Heatseekers, an action film.
THR says the script by George Mahaffey is in the same vein as Point Break and The Fast and the Furious, with a story about "a young ex-military pilot who infiltrates a gang of aerial "pirates" working out of Bangkok and takes part in an elaborate tower heist using powered gliders and parachutes."
That's all we've got right now, and the fact that this is just coming up is part of the reason that Dunes producer Brad Fuller wasn't talking about it as he did the rounds for A Nightmare on Elm Street, and we may not hear much more about it for a while.
Not being a huge fan of the Dunes horror films, I'm still curious to see what the label can do with action. Especially something lower budget in the Point Blank vein. Worst case, we get another piece of filler. But what if this is the ideal direction for a company overseen by Michael Bay? Hell, maybe this and Ouija will do something the horror films couldn't.
Beyond that, aerial pirates and a tower heist in Bangkok? I'd be interested in seeing an action film using those elements if it wasn't from Platinum Dunes, so I'll give them the benefit of the doubt until given evidence to do otherwise. Better than another horror remake, right?