Paramount Begins Putting Together A Magic 8-Ball Movie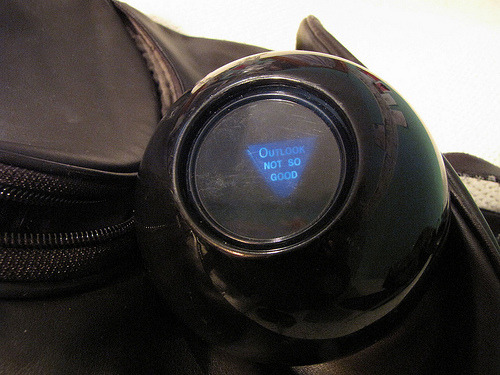 Years ago, toy companies went on a film feeding frenzy, attempting to convert many of their products into movie adaptations. Movies like Transformers, Bratz: The Movie, and G.I. Joe were the result. At the time, a movie based on the Magic 8-Ball was also on the table, but as the years passed, the film wound up in a state of limbo.
For those of you who didn't have toys when you were a child, the Magic 8-Ball was a round, plastic object resembling an oversized pool 8-ball that contained a 20-sided die. When shaken, a small window displayed one of the answers on the die. Over the years, many children and adolescents have turned to the 8-ball for advice, due to its remarkable predictive qualities.
Now, it looks as though Paramount Pictures is finally ready to make the Magic 8-Ball movie a reality.
Scoop-master Claude Brodesser-Ackner unearthed the news over at Vulture. According to Brodesser-Akner, The project originally was set up at Universal with Tom Shadyac (Liar, Liar, Patch Adams, Bruce Almighty) set to direct. That project fell apart, and Universal and Shadyac are no longer attached. But with films such as Battleship, Candyland, and Ouija Board on the way, Paramount is pursuing the project with Brad Weston as producer.
"The Paramount plan, we hear, is to turn Magic 8 Ball into a sort of live-action National Treasure–style action-adventure movie," says Brodesser-Akner. Make of that what you will; maybe adventurers will be searching for a magic 8-ball that actually does tell the future? Or maybe they'll actually be using an 8-ball to guide them to a long-lost treasure? Or maybe kids just playing around with an 8-ball will get sucked into an alternate, magical world full of thrills and wonder? The mind reels with possibilities.
And who will be the lucky scribes to fully realize this concept's potential? Jon Gunn and John Mann are set to write the script. Both are working on a screenplay for Dreamworks Animation's upcoming Boo U., but aside from that, probably have no other credits that you've heard of (unless you are a die hard Eric Roberts fan).
[Photo by Flickr user Katie]