Casting Notes: Ice Cube In Rampart; Bryce Dallas Howard In The Help, Paul Reubens Joins The Smurfs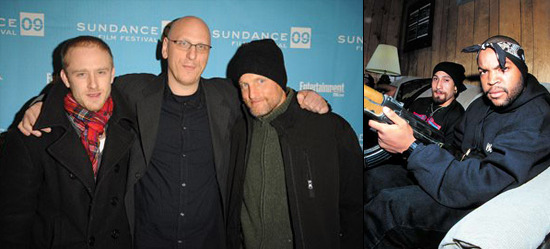 I was thrilled a couple weeks ago to see that Oren Moverman will rewrite and direct Rampart, based on a story and script by James Ellroy. The film covers the scandal that engulfed the Rampart Division of the LAPD in the '90s and now, perhaps appropriately, Ice Cube is in the cast. The guy went from being a full-on anti-authority spokesman to reformed family man and comedy filmmaker, and now he's going back to the subject of crooked cops.
The irony is that Cube will play a cop in the film — he's the homicide detective that investigates a dirty Rampart cop played by Woody Harrelson. Ben Foster is in the film, as well, but we don't yet know his part. [Deadline]
After the break, Bryce Dallas Howard joins Viola Davis in The Help and Paul Reubens gets blue.
I talked about The Help in brief a few days ago when Viola Davis joined the cast in the lead role. Now Bryce Dallas Howard is on board too, and will play "Hilly Holbrook, the beehive hairdo-wearing busybody who is cruel to the black maids and generally rubs everyone the wrong way." Tate Taylor directs the adaptation of Kathryn Stockett's novel. Emma Stone will play a young journalist who interviews maid Viola Davis about the indignities of being an African-American servant in pre-civil rights Mississippi. [Deadline]
Finally, Paul Reubens will voice Jokey Smurf in The Smurfs. That makes some kind of weird, sick sense, though it still doesn't make me any more willing to consider the movie as a thing that isn't an aberration of nature. Reubens joins Neil Patrick Harris, Sofia Vergara, Hank Azaria, Anton Yelchin, Jayma Mays, Katy Perry, George Lopez, Fred Armisen, and Jonathan Winters. [Deadline]