Crazy Heart Director May Helm 'The Hatfields And The McCoys' With Brad Pitt And Robert Duvall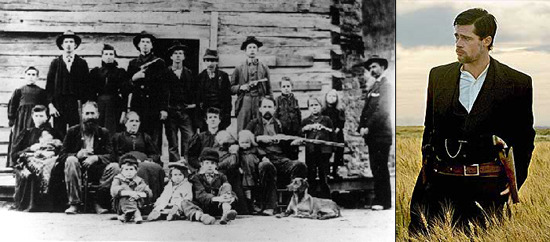 I don't know how Brad Pitt really has time to schedule anything of late, but evidently he's trying to get The Hatfields and the McCoys made at Warner Bros. The film would cover the legendary American family feud, and now has Crazy Heart director Scott Cooper attached to direct.
Jeff Wells got this info from Robert Duvall, with whom he spoke at the junket for Get Low, which took place as part of the Tribeca Film Fest. Duvall says that Eric Roth has written "an excellent script" (those are Jeff Wells' words, though perhaps an indirect quote from Duvall) and that Pitt's Plan B would produce at Warner Bros. with Pitt playing the lead role. Duvall would co-star.
A recap of the feud, since the name and basic idea of an 1880s family feud is probably more well-known at this point than the actual details:
The Hatfields and the McCoys were in the first wave of settlers in Tug Valley, with the McCoys living on the Kentucky side and the Hatfields on the West Virginia side. The wealthy Hatfields largely fought for the Confederacy, while the McCoys fought with the Union in the Civil War.
The roots of the feud are in the murder of a McCoy in 1865; in 1878 things kicked into gear thanks to a dispute over ownership of a hog. The McCoys lost that dispute, and in 1880 two members of the family killed the man who testified and cost them the dispute. Then there was an affair between a Hatfield and a McCoy and more killings; the peak of the violence was the 1888 New Years Night Massacre, during which Hatfields surrounded the McCoy cabin, fired rifles inside and set the home on fire to drive out Randolph McCoy. He escaped, but his wife and two of his children were killed.
Duvall said Pitt would play "the main guy," but which 'main guy' he means is open to question. One of the two patriarchs, no doubt, and the easy money is on Randolph McCoy.
OK, setting aside the Eric Roth part of the equation, this could be a great little film. I'm surprised there haven't been more cinematic takes on it, really.