New Photos Of James McAvoy And Toby Kebbell In Robert Redford's The Conspirator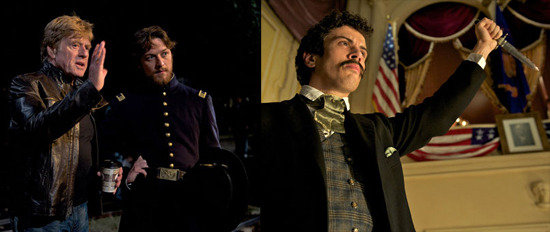 In August of last year, we heard that Robert Redford was going to, in some measure, beat Steven Spielberg to the punch with a film about Lincoln. But Redford's film, The Conspirator, isn't quite about Lincoln himself — it is about Mary Surratt (Robin Wright), one of the accused members of a conspiracy to assassinate the President and, in the wake of the case, the first woman executed by the US government.The film was shot last fall in Savannah, GA, and Redford is now talking about the picture, giving us some more information, and a few photos. USA Today has an interview with Redford, who says the assassination of Lincoln is more a backdrop than anything else, in the same way that Nixon's actions were background for All the President's Men. "Ken Burns did a great job with the Civil War, and so many stories and films have been shown about the assassination," Redford says. "What we don't know is the story I wanted to tell."
So this is a film about Surratt and her son, and Frederick Aiken (James McAvoy), a Union soldier who reluctantly defends Mary Surrat. It's about hunting down the conspiracy and prosecuting the perpetrators — USA Today blithely calls it Law & Order: Civil War Unit.
Redford describes McAvoy's character:
He barely survived the war. He was very heroic and won medals for bravery in the field, and comes back and wants to go back into law, and right away he's pulled into this case because no one else will defend this woman.
The director describes the opening of the film, featuring the assassination, as "a vortex of images and the key facts," including shots of Toby Kebbell as John Wilkes Booth.
Still love the idea of this film, and the cast, which also includes Danny Huston, Alexis Bledel, Evan Rachel Wood, Justin Long, Kevin Kline, Stephen Root, Tom Wilkinson and more is pretty great. Redford's got a hell of a stinker to get over (Lions For Lambs) but the material here was hopefully inspiring enough to get him over that hump. The Conspirator was financed independently and doesn't yet have a distributor.
Check out more images from the film, including shots of Robin Wright and Alexis Bledel, at USA Today.