Read 'Who Killed Bambi?', The Roger Ebert Screenplay For A Sex Pistols Movie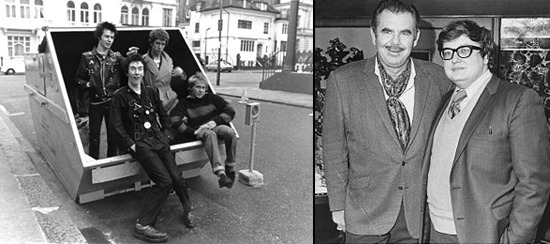 Recently Sex Pistols manager and rock impressario Malcolm McLaren passed away, which prompted Roger Ebert to write about his memories of working with McLaren on a film that never fully materialized. In 1977 Ebert worked with McLaren and director Russ Meyer on Who Killed Bambi?, meant to be a punk rock A Hard Day's Night, but which stalled out while filming.
Now Ebert has released his entire original screenplay online, and it makes quite a little punk rock / mainstream crossover curiosity.
Of the screenplay, Ebert says,
This, for the benefit of future rock historians, is the transscript [SIC] of a screenplay I wrote in the summer of 1977. It was tailored for the historic punk rock band the Sex Pistols, and was to be directed by Russ Meyer and produced by the impresario Malcolm McLaren. It still carried its original title, "Anarchy in the U.K.," although shortly after I phoned up with a suggested title change, which was accepted: "Who Killed Bambi?" [...] All I intend to do here is reprint it. Comments are open, but I can't discuss what I wrote, why I wrote it, or what I should or shouldn't have written. Frankly, I have no idea.
Only a small bit of footage was ever shot, some of which was later incorporated into the movie McLaren did manage to make with the Sex Pistols, The Great Rock and Roll Swindle, and more ended up in the Pistols doc The Filth and the Fury.
Ebert's script is half screenplay, half novella. There is material in there that would never quite translate to the screen, such as motivations in this passage:
ON STAGE: where Steve is breaking his guitar strings deliberately, perhaps as a half-hearted way of pretending the chaos was all planned, and only the (apparently) laid back Sid Vicious is carrying on, smiling at the audience, although what terrible things the smile conceals would be hard to imagine.
But there is also also a genuine attempt to capture what the Pistols were at the time and how some of the world attempted to receive and assimilate them. Does it work? Kind of. But it certainly is entertaining, and worth a read.