Movie Trailer: The Complete, Restored Metropolis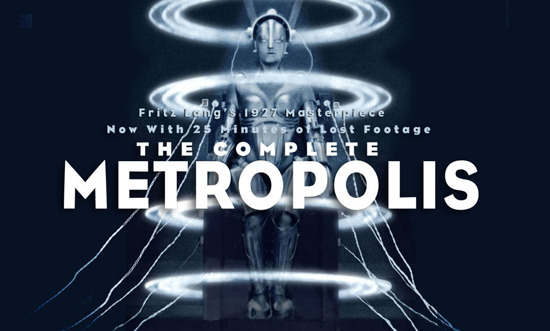 One of the big movie events of this year was the premiere of a restored version of Metropolis at the Berlin Film Festival. The outdoor screening drew large crowds despite cold and snow, and was watched via webcast by many film fans who couldn't make the fest. (Despite the fact that you could barely see the film in the webcast.)
Now there's a trailer for the restoration, which is being released in US theaters via roadshow started in May by Kino International.
Originally released in drastically edited or altered form in the US, there have been a couple of re-releases of Metropolis in theaters and on DVD over the years, notably in 2001 when the 75th anniversary restoration was released. Then, in 2008, a copy of the film was found in Argentina which contained twenty-five minutes of additional footage. That is the source for the material added to this cut, which will also feature the film's original score.
Here's a synopsis which explains the restoration in a nutshell:
The most influential of all silent films — and a blueprint for future classics like Blade Runner and The Matrix — Fritz Lang's visionary Metropolis can finally be seen as intended, with 25 minutes of newly—discovered footage and Gottfried Huppertz's magnificent original score. The addition of this astounding new material (1,257 shots, including entire new sequences), carefully restored and edited into the 2002 restoration, results in the closest rendition ever seen since the film's 1927 Berlin premiere.
You can see release dates here for the theatrical roadshow, and the film will hit blu-ray in November. See the trailer in HD at Apple.