Cary Elwes Returns For Saw VII 3D, Full Plot Synopsis And Cast Revealed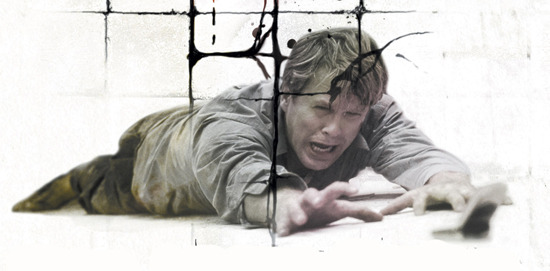 What was it I just said earlier about today being a day for coverage of sequels nobody wants? Oh, hello there, Saw VII 3D! LionsGate is at work on what may be the final chapter in the Saw franchise (oh, who are we kidding?) with editor turned director Kevin Greutert literally chained to the wheel. Now we've got a full cast lineup, including details on the return of Cary Elwes and an official take on the plot.
Bloody Disgusting provides all the info from LionsGate, and while this statement does not confirm or deny rumors that Monica Potter will return as Alison Gordon, it does give up plenty of other detail.
The cast goes like this:
Tobin Bell (of course), Cary Elwes, Costas Mandylor and Betsy Russell all return with the surprise addition of Sean Patrick Flanery (Boondock Saints), Gina Holden (Aliens vs Predator: Requiem, Final Destination 3), Chad Donella ("Lost", "X-Files"), Laurence Anthony, Dean Armstrong and Naomi Snieckus.
And the official synopsis:
As a deadly battle rages over Jigsaw's brutal legacy, a group of Jigsaw survivors gathers to seek the support of self-help guru and fellow survivor Bobby Dagen, a man whose own dark secrets unleash a new wave of terror... The first theatrical feature to be shot exclusively on the cutting-edge SI-3D digital camera system, SAW VII 3-D brings the horrifying games of Jigsaw to life like never before.
I always chuckle when a press release like this one touts a new, "cutting-edge" camera system. Because, really, who cares? How about putting together a movie that is genuinely tense and frightening? I'd prefer to start there. But I've generally come to the conclusion that this series isn't for me, so hopefully the fans that will queue up for this one will be satisfied with the franchise's characteristic traps and gore enhanced by "cutting-edge" 3D.