54 High Resolution Photos From Ridley Scott's Robin Hood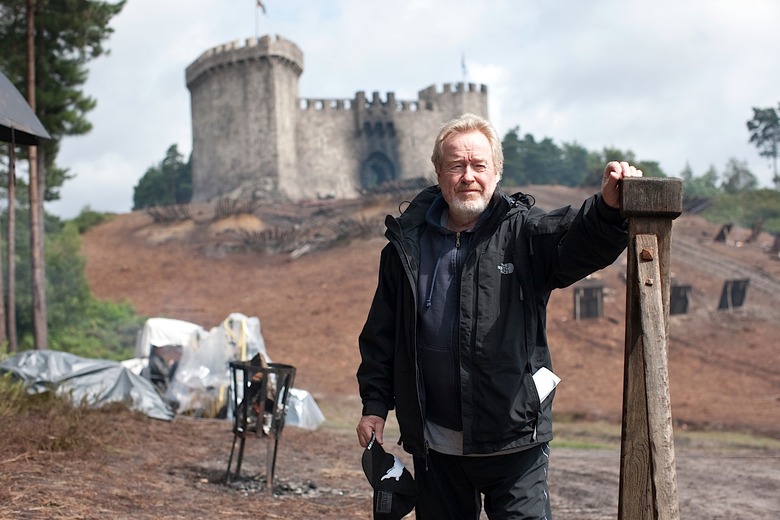 Universal Pictures has released 54 high resolution production photos from Ridley Scott's Robin Hood. Check them out now, after the jump. And check back tomorrow for an unofficial early review of the film.
Photos:
Official Plot Synopsis:
RUSSELL CROWE is the legendary Robin Hood.
Academy Award® winner RUSSELL CROWE reunites with his blockbuster Gladiator director, film- making legend RIDLEY SCOTT, for the epic action- adventure Robin Hood. Joining with Oscar®-winning producer BRIAN GRAZER (A Beautiful Mind, American Gangster) and Oscar®-winning screen- writer BRIAN HELGELAND (L.A. Confidential, Green Zone), they tell the story of the legendary figure known by generations as "Robin Hood," whose exploits have endured in popular mythology and ignited the imagination of those who share his spirit of adventure and righteousness.
In 13th century England, Robin and his band of marauders confront corruption in a local village and challenge the crown to alter the balance of power between the king and all of his subjects. And whether outlaw or hero, one man from humble beginnings will become an eternal symbol of freedom for his people.
Robin Hood chronicles the life of an expert archer, previously interested only in self-preservation, from his service in King Richard I's army against the French. Upon Richard's death, Robin travels to Nottingham, a town suffering from the corruption of a despotic sheriff and crippling taxation, where he falls for the spirited widow Lady Marion (Oscar® winner Cate Blanchett of The Aviator, Elizabeth), a woman skeptical of the identity and motivations of this crusader from the forest. Hoping to earn the hand of Maid Marion and salvage the village, Robin assem- bles a gang whose lethal mercenary skills are matched only by its appetite for life.
With their country weakened from decades of war, embattled from the ineffective rule of the new king and vulnerable to insurgencies from within and threats from afar, Robin and his men heed a call to ever greater adventure. This unlikeliest of heroes and his allies set off to protect their country from slipping into bloody civil war and return glory to England once more.
Crowe and Blanchett lead a cast of accomplished performers, including Academy Award® winner WILLIAM HURT (The Good Shepherd, A History of Violence) as Sir William Marshal, MARK STRONG (Sherlock Holmes, Kick-Ass) as Sir Godfrey, MARK ADDY (The Full Monty, A Knight's Tale) as Friar Tuck, OSCAR ISAAC (Body of Lies, Che) as Prince John and DANNY HUSTON (X-Men Origins: Wolverine, Children of Men) as King Richard The Lionheart, as well as legendary perform- ers DAME EILEEN ATKINS (Last Chance Harvey, Cold Mountain) as Queen Eleanor of Aquitaine and MAX VON SYDOW (Shutter Island, The Exorcist) as Sir Walter Loxley.
They are joined by rising stars MATTHEW MACFADYEN (Frost/ Nixon, Pride & Preju- dice) as the Sheriff of Nottingham and SCOTT GRIMES (Crimson Tide, Mystery, Alaska), KEVIN DURAND (Legion, X-Men Origins: Wolverine) and newcomer ALAN DOYLE as Robin's Merry Men—Will Scarlet, Little John and Allan A'Dayle, respectively.
Filmed on location in England and Wales, Robin Hood spans the years from the death of King Richard I in 1199 to the signing of the Magna Carta in 1215. It is produced by Scott, Grazer and Crowe, from a story by Helgeland and ETHAN REIFF & CYRUS VORIS (tele- vision's Sleeper Cell) and a screenplay by Helgeland.
The celebrated behind-the-scenes team is led by a crew of longtime Ridley Scott collaborators, including cinematographer JOHN MATHIESON (Gladiator, The Phantom of the Opera), BAFTA- winning production designer ARTHUR MAX (Body of Lies, Gladiator), Oscar®-winning costume designer JANTY YATES (Body of Lies, Gladiator), two-time Oscar®-winning editor PIETRO SCALIA (Body of Lies, JFK) and composer MARC STREIT- ENFELD (American Gangster, Body of Lies).