Batman Live Stage Show In Development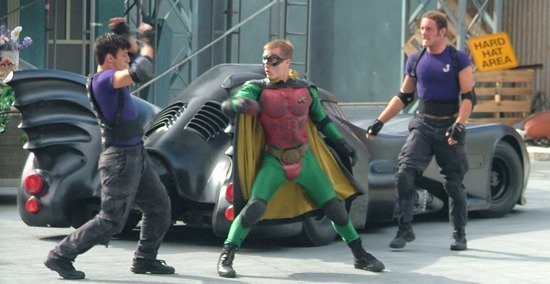 At this point, I'm not sure if we'll ever see the Spider-Man Broadway musical that has been in development for years. We certainly have a much better chance of seeing Batman on the stage. HeatVision has learned that Warner Bros and DC Comics are developing a Batman live stage tour, produced by Nick Grace Management and Water Lane Prods., the companies behind the popular Walking With Dinosaurs stage shows.
This won't be a cheesy musical, and don't ever expect to see it on Broadway. Apparently it is "an elaborate arena production aimed at kids and families", which at first might sound like more complex and cool version of the stunt shows they stage at Six Flags theme parks across the country. For those of you who haven't seen video footage from the Dinosaurs show, check out the video below. It will give you a much better indication of what we can expect:
Alan Burnett and Stan Berkowitz, whose credits include both the Batman and Superman animated television shows as well as Justice League: The New Frontier animated movie, are writing the script. The story is being kept under wraps, but it's assume that the show will feature a number of Batman's villains. I also assume that the show will be based more on the comic/animated version of the dark knight, and not on the versions created by Christopher Nolan in the movies. I could be wrong.
The stage show is in the early stages of development, so don't expect it to open in your local arena any time soon. Expect it to launch in 2011 or 2012, likely before the next installment of Christopher Nolan's Batman movies hit theaters.
photo via amusementpics.com