Mickey Rourke To Play Ghengis Khan?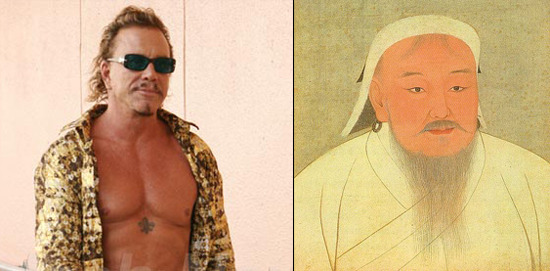 Is this stunt casting or a genuinely good idea? I'm going with stunt casting for now. Apparently Mickey Rourke is meant to play Mongol emperor Ghengis Khan. I know Rourke's face has undergone some drastic changes over the last decade, but unless recent images are hiding a lot, he hasn't yet transformed into an appropriate actor to play an Asian warlord. Then again, when has that ever stopped anyone as they tried to cast a movie?
The Orlando Sentinel talked to Rourke as he was on a break from filming Tarsem's Immortals (which Rourke evidently kept referring to as Disciples) and gearing up to promote Iron Man 2. During a rundown of various rumored and upcoming Rourke projects, the subject turned to Ghengis Khan, to be written and directed by John Milius (Conan the Barbarian).
Rourke says,
I read his script and you know, the man is known for his tough writing. He wrote Conan and Dirty Harry and Apocalypse Now, and it'll be interesting to see how he works behind the camera. I'm playing Genghis. John wrote as a piece told from the son and grandson's point of view, how they saw this mythic figure from their family. You see him in flashbacks, back when he was in his mid-40s.
The role would require a lot of work on horseback, but according to Rourke that's no problem. " I probably ride a horse better than I drive a car," he says. Anyone ever seen Rourke drive a car? Just so we have some idea what to expect. The actor also says the film will shoot in India and China. That's part of the appeal of the film, as is Ghengis Khan's evident love of dogs, which is a character trait that both men share.
One of the things I like about Genghis Khan was his love of dogs. The Mongols used dogs in battle, and dogs rarely made it out of the battle. But in one instance, in this script, he orders his men – 'Hold the dogs back.' He was looking out for the dogs. I like that.
Rourke also says that St. Vincent, the proposed film that would re-team him with his Johnny Handsome director Walter Hill, isn't going to happen.