Cool Stuff: EditNinja's Fan Made Movie Trailers For Thor, Wonder Woman, Spider-Man, Black Widow, Marvel 1910, And Captain America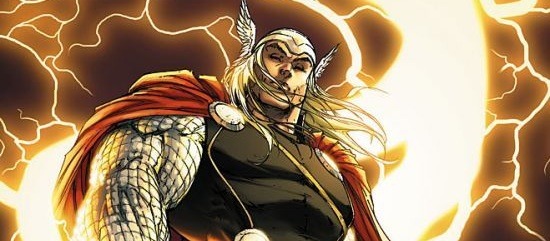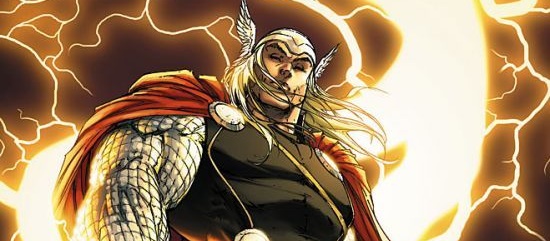 We always love running well crafted fan made movie trailers and posters. The best of the bunch was probably that Green Lantern movie trailer featuring Nathan Fillion from last year. The newest fan edited trailer to hit the web is for Marve's Thor. But while admiring that trailer, I noticed that the YouTube user, who goes under the name EditNinja, has created quite a lot of trailers for comic properties.
Films include: Thor, Wonder Woman (starring Angelina Jolie), Spider-Man 6 (A Bourne-style take starring Julia Stiles), Spider-Man (A bubblegum pop reboot from Disney), Black Widow (Starring Scarlett Johansson), Marvel 1910 (HBO Television series opening), and The First Avenger: Captain America (starring Chris Pine and Hugo Weaving). Not all of them are amazing, but I thought I'd highlight a few of his trailer edits that I enjoyed watching. Watch them now, after the jump.
Comments below are by EditNinja:
Thor:
An arrogant Thor (Chris Hemsworth) is cast to Earth from Asgard as a weakling to learn, where he falls in love and encounters a familiar enemy and some new allies.
Footage from: Ca$h [2010], Outlander [2008], Brothers [2009], Hulk [2003], Alexander [2004], Troy [2004], Van Helsing [2004], Defendor [2010], Angels And Demons [2009], A Perfect Getaway [2009], Superman Returns [2006], Hellboy [2004], Nick Fury: Agent of S.H.I.E.L.D [1998], and the trailer for The Clash Of The Titans, Swat, Spartan, Marvel Ultimate Alliance VG,
Soundbites from the animated 'Hulk Vs Thor'
Music from Immediate Music 'Heaven's Warriors' and 'Distant Thunder'
NOTE: Using all available info about the upcoming Thor movie [2011], I started collecting scenes and similar shots from other movies with the listed cast. Yes, Chris Hemsworth lost his wig on the rainbow bridge upon entering Earth. Tom Hiddleston (Loki) has not starred in any readily available movies so he was merely implied here. Natalie Portman plays a caring wife 'Brothers' so that was easy; Stellan Skarsgaard (Angels & Demons) as the expert on Norse Mythology; Clark Gregg (Iron Man, Spartan) as the SHIELD Agent; Sir Anthony Hopkins(Alexander) as Odin; and Kat Dennings (Defendor) as a new character. I'm expecting alot from this movie and this is how I envision Kenneth Branagh will direct it. This is a non-profit project video. I will never take any money for my fanedits. Ever.
Wonder Woman:
A military pilot crashes on an exotic island of women whose delegate returns him to Washington DC.
Angelina Jolie as Diana Prince/Wonder Woman, Josh Lucas as Steve Trevor, with Sam Shepard and Adam Brody and Megan Gale.
*Footage from 'Alexander' [2004], 'Mr and Mrs Smith' [2005], Wonder Woman (RedCape Studios), Stealth [2005], Superman Returns' [2006], Tomb Raider 2: The Cradle Of Life [2003], X-Men 2 [2003] The Dark Knight [2008] and The Wonder Woman Animated Trailer
*Music by WestOne – 'Galleons of Glory' and 'Call To Arms'
NOTE: This is one I'd wondered about for a while: I wikied the TV show synopsis for an outline and found enough appropriate footage. I was happy with the fan-nods to Megan Gale (whowas cast in the subsequently scrapped Justice League Mortal) and Brody who had a scene in the OC with Rachel Bilson's character dressed-up as WW.
Spider-Man 6:
STORY: After awakening from a coma, retired crimefighter Peter Parker(Tobey Maguire) is nursed by a caring woman(Julia Stiles) who empathises with his old cause. But who is she?
*Footage from 'Spider-Man' 1, 2, 3; 'Catwoman', 'The Bourne Ultimatum' and the 'Brothers' trailer.
*All music by Immediate Music – 'Doppler', 'Heaven's Warriors NC' & 'The Spell of Lythos'.
This is a request by YouTube user 'QBW' who was after a Black Cat trailer, and suggested some shots.
I analysed the casting rumours and realized that Julia Stiles was the easiest to fanedit. Then the 'Brothers' trailer could open a 'Parker-Goes-Nuts' element to it, which allowed me to use soundbites from 'Bourne'.
I always try to offer something outside of the square, and I thought this movie would be more likely to be released in several years – 2018!
Spider-Man (Disney Reboot):
What if Disney/Marvel still owned the rights to Sony/Columbia's Spider-Man movies? This pseudo-parody explores a nightmare scenario for comic book movie freaks!!
*All footage from Spider-Man (2002), and the trailers from High School Musical 3, The Lost World, and 17 Again.
*Music from Immediate Music- 'Fun For The Whole Family' & 'Masked Avenger'
"Zac Efron stars in... 'Walt Disney's Spider-Man Again'
Captain America:
Chris Evans is officially Captain America, directed by Joe Johnston and also starring Hugo Weaving as Red Skull.
*Footage from Valkyrie [2008], Fantastic Four: Rise Of The Silver Surfer [2007], The Matrix [1999], Captain America [1990], and the trailer of 'Loss of a Teardrop Diamond'
Soundbites by Brand X Music
NOTE: I created this just hours after reading the official news of Evans' casting in the upcoming blockbuster. I'll do something more comprehensive in the future... stay tuned!
Gotham Knights (Batman Begins sequel, Dark Knight Prequel starring Angelina Jolie as Catwoman):
STORY: After Batman Begins and before The Dark Knight, new and familiar faces make their mark on Gotham.
This is mostly leftover shots and footage from the megatrailer that I chopped into a trailer several weeks ago. I'd put this video on the backburner to refrain from overcrowding my subscribers' box.
Footage from:
Batman Begins
The Dark Knight (movie and teaser trailer)
Sweeney Todd: The Demon Barber of Fleet Street
Thank You For Smoking
Casanova
Monster's Ball
Public Enemies
The Last Samurai
Mr & Mrs Smith
Wanted
Blood and Bone
The Prestige
Taking Lives
MUSIC:
Brand X – The Masked Avenger; Fantastic Realm; Court Martial; Drn Fill The Room F; Hit Big Big Shot; Hit Big Double Impact; Rise Fogcutter; Hit Big Door Slam;
SOUNDBITES:
(from the above movies and) Alice In Wonderland trailers
HBO/Marvel 1910 TV Series Opening:
STORY: What if... HBO created a TV show with the Marvel characters (cast as we know them) set 100 years ago? Using footage of actors such as Hugh Jackman, Tobey Maguire, Robert Downey Jr and many more from period piece movies, this video is an LXG-style mock-up of a concept I've had for a while. I've even included an opening scene for added effect.
Footage from: Ghost Rider, Daredevil, Elektra, Seabiscuit Marie Antoinette, Shakespeare In Love, Iron Man, The Illusionist, The Incredible Hulk, Australia, HBO Rome and the trailers for Sherlock Holmes, X-Men Origins: Wolverine, The Sorcercer's Apprentice.
*Music by Immediiate Music – 'Slay The Dragon'
*Notes: Everytime I see a CBM actor in a turn-of-the-century; Victorian Era; Period piece movie, I think 'wouldn't it be cool to put them into a trailer or TV show where they're all humble heroes back then?' Well, this vid is designed to do just that. Being thoughtful to the background of each shot, I used another smorgasbord of resources to offer another 'alternative vision' to this fun genre.
Black Widow:
STORY: A young Russian spy is trained by a secret government program to seduce The Avenger Initiative.
*Footage from the movies 'Lost In Translation', 'Captain America', 'Iron Man', 'The Hunt For Red October', 'Rocky IV', 'The Avengers' and the trailers for 'Salt', 'Repo Men', 'The Edge Of Darkness', 'GI Joe', 'Spartan' & 'Iron Man 2'.
Music by Brand X – 'Battlefield' with soundbites from the 'Salt' trailer
Note: This one was harder than usual to stitch together because I tried to use the 'Salt' trailer as a main base, but it makes everything else hard to move! Worth it in the end, though!
-Damned aspect ratio glitch I overlooked @ 0.50 !
Cool Stuff is a daily feature of slashfilm.com. Know of any geekarific creations or cool products which should be featured on Cool Stuff? E-Mail us at orfilms@gmail.com.

Thor trailer via: Collider