/Film Boston: Paul Verhoeven Introduces Robocop; An Interview With Tommy Wiseau, Director Of The Room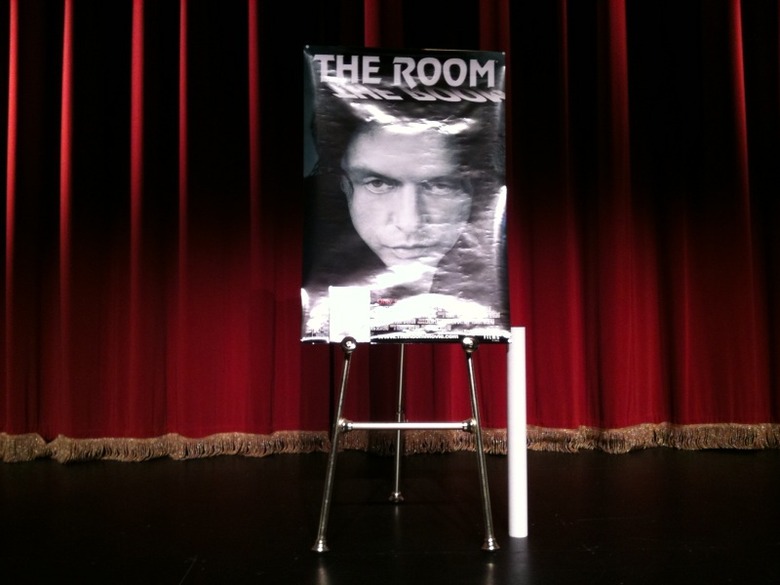 We may receive a commission on purchases made from links.
Lots of cool film-related stuff happens in Boston, Massachusetts and not that many people are here to document it, preserve it and spread the word about it. Special screenings, Q&As, panel discussions — we have them all, and frequently too. /Film Boston aims to be a bi-weekly column that will bring you audio and video content from film-related events around the Boston area. If you don't live in Boston, I hope that this column will give you a window into some of the cool stuff that happens here regularly. If you do live here, hopefully you'll come here to get the heads-up on what's been going on, and what is to come.
After the break, director Paul Verhoeven explains why Robocop is a Christ metaphor, and I speak with the enigmatic director of The Room, Mr. Tommy Wiseau. You can find all past versions of /Film Boston by going to http://www.slashfilm.com/boston
On April 12th, 2010, legendary director Paul Verhoeven was in town to promote his new book about Jesus Christ, Jesus of Nazareth. The Brattle Theater hosted a discussion of the book with Verhoeven, and followed it up with a screening of his dystopian classic, Robocop. You'll find the video below (fast forward to one minute into the video to get to the good stuff). A big thanks to Maxwell Clark for capturing this footage for us!
**
I'd heard about how screenings of The Room were pretty raucous, so when I learned that the Coolidge Corner theater would be screening the film, this time with director Tommy Wiseau in attendance, I had a feeling that I was in for a real treat. There were three screenings of the film, two at midnight and on at 9:30 PM last Sunday. I discussed my experience at these screenings on this week's /Filmcast. For those who are unfamiliar, The Room is generally regarded as one of the worst films ever made. Wiseau wrote, produced, and directed the film, and appeared as its main star. Here's a clip from the film:
Wiseau and his colleague Greg Sestero (who plays Mark) were on hand to do a Q&A each night before the film screened. I was lucky enough to have a chance to chat with Wiseau. You'll find that interview below. Usually, I like to sum up what is discussed in my interviews, but after watching this interview repeatedly, I still don't really have any idea what is going on. As my colleague Adam said on the /Filmcast, this interview will remove any doubt that the hilarity in The Room is in any way intentional:
I also spoke with Greg Sestero about some of the unresolved plotlines in The Room. Only hardcore fans need check out this interview.
And in case you doubt the enthusiasm behind this film, here's footage I took right outside the theater, 10 minutes before the midnight screening began. Hundreds of people were already in line, and when Tommy stepped outside, the crowd exploded. Tommy soaked it up, as anyone would.
***
Usually, I use this space to list cool stuff happening in Boston. Since I'm covering IFFBoston, this week's list will be very abbreviated. Just a couple of things I have time to mention today:
Wednesday, 4/28, 8 pm – IFFBoston's closing night film Saturday Night will be playing at Coolidge CornerAll week – Coolidge Corner is screening a restored print of Akira Kurusawa's Rashomon.
***
For now, /Film Boston is an experiment, a movie travelogue of sorts. I know the camera audio/video quality can be better, but I hope you find it viewable/listenable, as well as entertaining and interesting.
Hosting an event in Boston that you want me to cover? E-mail me at slashfilmcast(AT)gmail(DOT)com. Readers should also feel free to e-mail me if you have any other feedback, or any ideas of what you'd like to see here. What do you like about the column? What don't you like? etc.Like /Film Boston? Subscribe to it by RSS or by e-mail below to receive updates automatically:
Delivered by FeedBurner