Inception Updates: New Photo, Viral Video With Dream Researchers, And A Trailer For Iron Man 2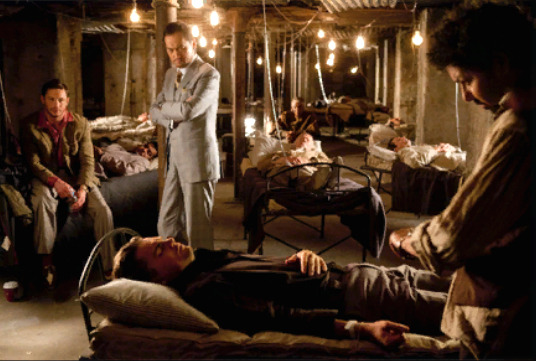 With the release of Christopher Nolan's Inception just a few short months away, the film's marketing machine is starting to up its game. Just the other day, we got wind of four new photos from the film. Above, a new image that we've just received. After the jump, you'll find a viral video featuring Christopher Nolan interviewing some supposed dream researchers, plus news about the next trailer. Note that the following arguably contains spoilers for the film. You've been warned.
From Nolan Fans comes word of an interesting new viral video, and the way in which the site's users found it is actually fairly impressive. People at Nolan Fans  have been involved in the Inception viral Mind Crime game, and recently discovered a poster, "displaying the film's dream machine and a note reading 'SEND TO CPT DARREN BARTEL.'" One of the site's users then googled "Cpt Darren Bartel" and discovered the following Youtube video:
The video is a fairly lo-fi recording of Nolan interviewing various dream researchers. Interestingly, Nolan edits out where these researchers study, but the video does in fact appear to feature real-life individuals. The first person you see is G. William Domhoff, who is a professor in psychology at the University of California, Santa Cruz. He's followed by Jayne Gackenback. The last researcher is an unnamed female (actress?) and speaks about the process training people to take control of their dreams, and how powerful this can be. "[The military] took it one step further," she cryptically says. "If one can actively participate in one's own dreams, what would happen if one could participate in another person's dreams...the military calls this Project Somnacin." We then hear further elaboration from Cpt Darren Bartel via a supposed telephone interview. Note that when /Film unveiled Inception's dream machine awhile back, the device was called the "Portable Automated Somnacin Intravenous Device." The game is afoot!
Also, from the Nolan Fans forum (via Firstshowing), it appears that according to the WB exhibitor's website, the third trailer for Inception will be attached to prints of Iron Man 2, for both regular and IMAX screenings of the film. I can't wait.