More Wacky Rumors: Vanessa Hudgens In Talks To Play Spider-Woman?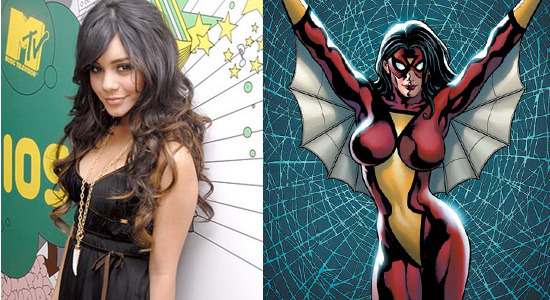 The have been a couple crazy rumors in the last 24 hours. Yesterday E! reported that Universal has met with Kristen Stewart to possibly star in Wanted 2. This morning MTV UK is reporting a wacky rumor that High School Musical star Vanessa Hudgens is in talks to play Spider-Woman in her own stand-alone movie based on the Marvel comic book.
MTV's inside source claims that "The idea is for this to be a fun, comedic movie and Vanessa is perfect for the title role," and that "Spider Woman is strong and sexy but in this case hilarious. Vanessa is apparently very interested in the idea." This all sounds a bit too tabloid-ish to me, and I refuse to believe it until we see an announcement in the Hollywood trade papers.
That said, recently we learned that Marvel was looking to produce lower budget films ($20-$40 million) based on their third teir characters. Hudgens also has that Disney connection.
Spider-Woman first appeared in the late 1970's, and the character even had her own animated tv series in 1979. She had a 50-issue run before she was depowered and disappeared. But recently the character has come back into the spotlight. Comics creator Brian Michael Bendis added Spider Woman to the roster of New Avengers, and in 2009, the character received her own self-titled limited series.
According to wikipedia, the most recent origin involved Jessica Miriam Drew's "powers derive from her mother's womb being hit by a laser beam containing the DNA traits of several different species of spiders while she was carrying Jessica (the Drews were trying to splice and harness spiders' environmental adaptive capabilities, in order to graft them into the human genome). After Jessica's parents disappeared under mysterious circumstances, Jessica was recruited into HYDRA (under false pretenses), where she was made into a formidable fighter/assassin. She was trained and mentored by Taskmaster, who schooled her in many martial disciplines and more than seven different fighting styles out of his own "arsenal". Now going by the name Spider-Woman, Jessica used her new identity to track down her father's killer, starting her search in London."