/Film UK - A Human Centipede Sequel, The Stephen Langathon, Nighy And Blunt In Wild Target And Much More

Coming to you weekly from my vantage point in good old Blighty, it's Slashfilm UK. Anglos and Anglophiles rejoice as every Friday I'll be bringing you a round up of news, links and coverage specific to the motion picture comings and goings here in the UK. Sometimes we'll be talking about films that have already played in the US, other times it will be films that won't make it to the US for a good while yet, and from time to time you'll read about films that will never make it to the US at all.
Sky News are reporting that Vue may sell off half of their business. Who to?  My local is a Vue, and I do rather like it.
Mark Millar, Scotland's one-man hype machine, is looking to give you a little bit of publicity – not to mention a salary. He's posted a job ad on his Millarworld boards looking for "something funny or smart in one page" from a writer-artist, for an as-yet top secret project.
There's a range of toys for curious, sci-minded kids coming in a Natural History Museum/Wallace and Gromit line. License! have the details. The paper plane launcher sounds like fun.
Variety offer confirmation that Mark Hamill is directing a big-screen Black Pearl adaptation, and he's doing it for a UK production company no less. Hamill will apparently hold great sway over the creative direction of the newly formed Berkeley Square Films.
Bloody Disgusting unveiled the following promo artwork for low-budget UK horror film Dead Gone Buried.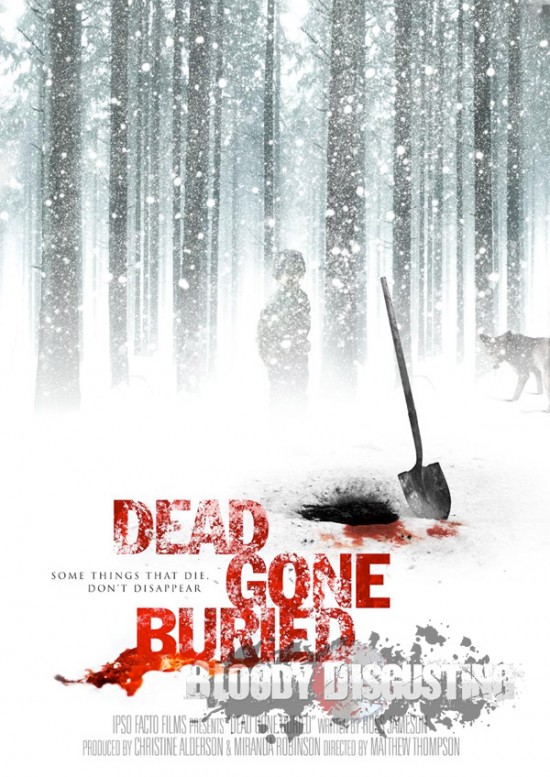 Tom Six will film his Human Centipede sequel in London this summer, he tells Dread Central. I hope he remembers my early support for the film and gets me down for a set visit. I'd love to see twelve people crawling around the capital city, ass to mouth. I think.
Follow Movietyme on Twitter to get a £1 voucher towards their import DVDs and BDs. They're very good at confirming just what international BD discs are region free and therefore happily importable by most UK customers.
Fox have ditched their plans to develop a US version of Torchwood, though Broadcast report that the BBC are now looking to take the project to another network.
Playwright and sometime screenwriter Alan Ayckbourn is to receive an honorary Tony in recognition of his life's work. He's 71 years old now, but has written 74 plays. That's going some. I've only seen six of them – hardly a fair sampling, I suppose. I did enjoy them, though, to greater or lesser extents.
Paramount will be releasing Killing Bono in the UK and Ireland. The film is about a failed band made up of the schoolmates of U2 and has a screenplay co-written by Porridge, Likely Lads and Across the Universe wizards Clement and Le Frenais. Variety quote a Paramount exec as saying the film is "a well written, funny and highly entertaining film" that they think "will be very commercial in both the UK and Ireland". Straight to DVD in the US, then?
For some reason, the BBFC have a passed a 4:3 Academy ratio version of The Road. Does anybody have any idea why? Is this somehow John Hillcoat's preferred format for home viewing? Baffling.
Screen Daily quote FDA figures telling us that "between January and March this year, the UK box office took $448.3m (£291.1m), compared with $386m (£250.80m) in 2009, despite the fact that box-office receipts in 2009 reached a record high of $1.5bn (£945.7m)".
More artwork for indie funded UK horror at Bloody Disgusting. Here's a promo poster for Jim Groom's Zombie God Squad.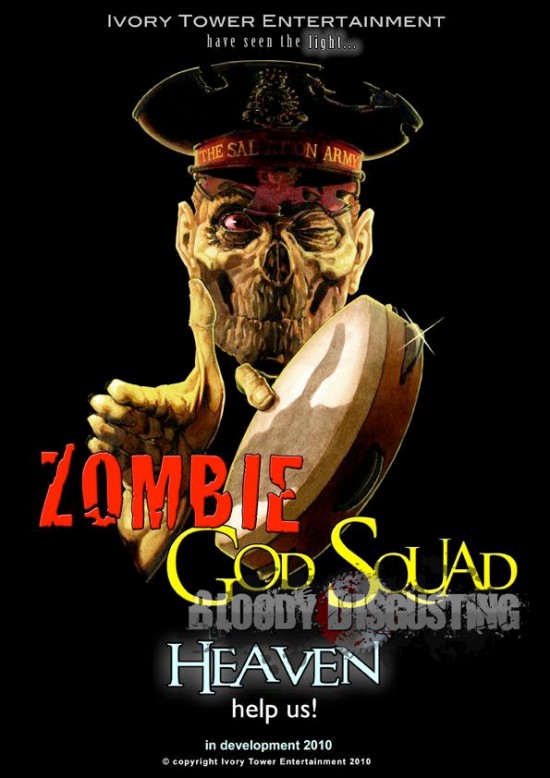 Blue Moon Rising is to be a theatrically released documentary about Manchester City Football Club. Screen Daily offer the following quote from Gregg Oldfield, managing director of producers Endemol:
Our aim is to create something on an epic scale that will capture the beautiful game as never seen before.  Blue Moon Rising will combine cinematic production value and breathtaking footage with the very real human drama that defines the club and its fans.
Yeah, but.... still football, isn't it? I loved Looking For Eric and The Damned United but I just don't understand the appeal of soccer at all.
Film London have opened for applications to Flamin London 2010, a funding project for "London's artist film-makers". There's a whole lot of money up for grabs.
I could keep posting Heartless YouTube videos week in, week out – or I could just give you a link to the channel of May 13 films and let you see them all at once.
The UK film production trade association body Pact have issued a proposal to fund British pictures without recourse to public funds. Variety have some details.
The second Millennium picture, The Girl Who Played With Fire, is coming to UK cinemas this summer. Empire revealed the following still:
Trying to count the number of film events, junkets and premieres cancelled due to ash-cloud interference has been a frankly tedious task. The biggies, though, were a relocation for the Iron Man 2 premiere from London to LA, and the outright scrapping of some Robin Hood outward bound adventure-scepades.
The Guardian Hay Festival is to feature two programs of UK short films, on Saturday 29th and Monday 31st May.
In celebration of Monday's release of Avatar on 2D DVD and BD, Geektown have translated the UK and Commonwealth "National" Anthem into Na'vi. Next, I'd like to hear them sing it, maybe at the FA Cup Final.
The Advertising Standards Authority have slapped a ban on one of Sky TV's ads for their film channels. According to Broadcast:
BT challenged the advert and complained to the advertising watchdog that Sky misleadingly implied it showed new films before other television providers, including BT Vision.
And (while I'm on their site) Broadcast have announced that the not-quite-a-Dr. Who spin-off K-9 will be screening on Fiver at Christmas. Here's a still.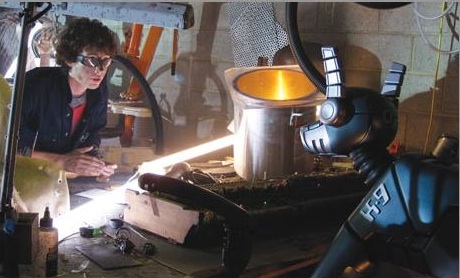 The BBC have announced their plans for another collaboration with Ricky Gervais and Stephen Merchant. Life's Too Short will supposedly be a Curb Your Enthusiasm style comedy about the life of Warwick Davis, "Britain's pre-eminent dwarf actor and star of box office hit movies such as Star Wars, Willow and Harry Potter". Gervais and Merchant will also make cameo appearances as themselves.
Meanwhile, Gervais and Merchant's Cemetery Junction has had a rather poor week at the UK box office, opening at number 7 with a weekend haul of just £643 thousand or so. The full chart is available from the UK Film Council.
Mean-meanwhile, Warwick Davis is holding a book signing and presentation at Waterstones Peterborough TONIGHT, April 23rd, during which he promises to play never-before seen Willow and Prince Caspian footage.
Once you've seen this actual moving trailer for the Dr. Who video games you'll start to understand why they're free. I hope the scripts and gameplay are top notch because the presentation is a bit... cronky.
This year's National Movie Awards are going to be broadcast live on ITV1, at 8pm on Wednesday May 26th. Many of the awards are decided by public vote – well, at least now the shortlists have been compiled. Amongst the categories is one for Most Anticipated Summer Movie, which I imagine Twilight: Eclipse is going to win by a landslide.
The oddest category is the so-called Breakthrough Movie, which features Paranormal Activity, Harry Brown, The Girl With the Dragon Tattoo, The Time Traveller's Wife and Nativity! If anybody can describe the rhyme or reason behind this selection I'd be fascinated to hear it.
Here's the UK trailer for Phobia, a Thai horror anthology. The DVD hits stores over here on May 10th.
The BBC have spoken to Stephen Butchard, the writer of Five Daughters, their new drama about the Ipswich Murders of 2006.
Stephen Lang is in the UK this week to promote the Avatar home entertainment launch and here are a few of the high points of his itinerary, should you want to meet him:
He's going to be doing a few appearances – the timings aren't clear – at the Hyde Park "Tree of Souls" a fibre-optic replica of the Pandoran fauna that's being erected in London for the weekend.
He's going to be signing early copies of the Avatar BD and DVD at HMV's flagship store on Oxford Street. That's from 4pm on Sunday, but wristbands for the signing session will become available from 10am, so start queuing early.
All-in-all, there's going to be a lotta Lang going on. I think he's even going to be on Loose Women on Monday.
Wild Target is a UK comedy film with Emily Blunt, Bill Nighy and Rupert Grint. Rupert Everett, Martin Freeman and Gregor Fisher turn up too. Does it look hilarious? Hardly. But director Jonathan Lynn has Yes, Minister and Yes, Prime Minister on his CV so we have to cut him some slack. The movie opens here in Britain on June 18.
Moviescope magazine have tweeted the following, self explanatory promise:
Indie filmmaker? No P&A budget? @movieScope is offering 2 lucky filmmakers 1 full page ea in #17 Promote your film at Cannes 2010 for FREE
Crying With Laughter, which I reviewed and liked last week, has won Best Feature Drama at the Celtic Media Festival. To celebrate – here's the trailer:
The BFI have launched a new strand of avant garde  films that they're calling Essential Experiments. There will be monthly screenings at the South Bank with Berlin: Symphony of a Great City and Man With a Movie Camera coming soon.
Chris Jones' Guerilla Film Makers TV are two episodes into their web series, The Production Office. It's going to be very interesting for indie film makers looking for tips and discussion.
Blogomatic 3000 seemed to be the only folk happy to run all three extant Tamara Drewe movie images this week. Here's one of Gemma Arterton, a car and some smashed eggs. It will get really big if you click on it.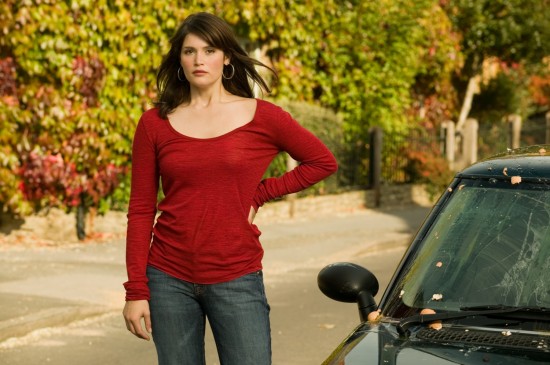 One time cinema advertising giants Pearl and Dean have been sold for the token price of £1. That's more than the cost of a Robert Rodriguez soundtrack cue, or a scene directed by Quentin Tarantino for your Sin City adaptation. The company will now belong to the owner of Empire Cinemas. If you don't know the Pearl and Dean theme tune a) how come? and b) why not check it out at their official site.
If you'd like to preview Fox's Blu-ray of Minority Report, I have some free tickets for a Sci-Fi London screening at the Apollo Picadilly on Lower Regent Street, London on Bank Holiday Monday May 3rd at noon. That's two weeks ahead of its May 17th street date, not to mention that you'll get to see the film on a big screen with an audience. Claim a pair of tickets by just dropping me an e-mail, first come first served. I've got a copy of the disc at home and can tell you that they've polished it to within an inch of its life.
Edgar Wright brings the sad news that Ada, who played Colin the dog in Spaced, has passed away.
Andy Serkis is planning to open a motion capture studio here in the UK. The Guardian have run the following video from a British Screen Advisory Council in which Serkis talks up his "Imaginarium". He's a great public speaker, if obviously inexperienced at quite this job.