New Clips: Robin Hood And A Nightmare On Elm Street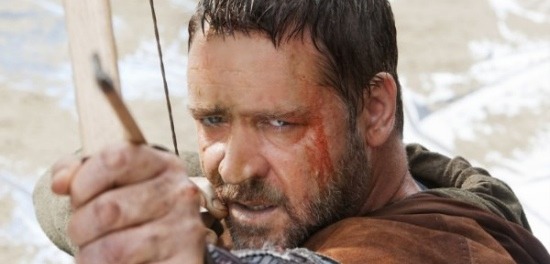 A couple new clips hit the web today, including a nightmare sequence from Samuel Bayer's remake of A Nightmare on Elm Street and one-minute of a battle sequence from Ridley Scott's Robin Hood. Watch both now, after the jump.
Robin Hood (clip via yahoo):
Oscar winner Russell Crowe stars as the legendary figure known by generations as "Robin Hood," whose exploits have endured in popular mythology and ignited the imagination of those who share his spirit of adventure and righteousness. In 13th century England, Robin and his band of marauders confront corruption in a local village and lead an uprising against the crown that will forever alter the balance of world power. And whether thief or hero, one man from humble beginnings will become an eternal symbol for freedom for his people.
Robin Hood chronicles the life of an expert archer, previously interested only in self—preservation, from his service in King Richard's army against the French. Upon Richard's death, Robin travels to Nottingham, a town suffering from the corruption of a despotic sheriff and crippling taxation, where he falls for the spirited widow Lady Marion (Oscar winner Cate Blanchett), a woman skeptical of the identity and motivations of this crusader from the forest. Hoping to earn the hand of Maid Marion and salvage the village, Robin assembles a gang whose lethal mercenary skills are matched only by its appetite for life. Together, they begin preying on the indulgent upper class to correct injustices under the sheriff.
With their country weakened from decades of war, embattled from the ineffective rule of the new king and vulnerable to insurgencies from within and threats from afar, Robin and his men heed a call to ever greater adventure. This unlikeliest of heroes and his allies set off to protect their country from slipping into bloody civil war and return glory to England once more.
A Nightmare on Elm Street (clip via Shock):
In Theatres Friday, April 30
Nancy, Kris, Quentin, Jesse and Dean all live on Elm Street. At night, they're all having the same dream–of the same man, wearing a tattered red and green striped sweater, a beaten fedora half-concealing a disfigured face and a gardener's glove with knives for fingers. And they're all hearing the same frightening voice... One by one, he terrorizes them within the curved walls of their dreams, where the rules are his, and the only way out is to wake up.
But when one of their number dies a violent death, they soon realize that what happens in their dreams happens for real, and the only way to stay alive is to stay awake. Turning to each other, the four surviving friends try to uncover how they became part of this dark fairytale, hunted by this dark man. Functioning on little to no sleep, they struggle to understand why them, why now, and what their parents aren't telling them. Buried in their past is a debt that has just come due, and to save themselves, they will have to plunge themselves into the mind of the most twisted nightmare of all... Freddy Krueger.
New Line Cinema presents a Platinum Dunes Production, "A Nightmare on Elm Street," a contemporary re-imagining of the seminal horror classic, starring Academy Award® nominee Jackie Earle Haley ("Little Children," "Watchmen") as Freddy Krueger. The film is directed by award-winning music video and commercial director Samuel Bayer (Nirvana's "Smells Like Teen Spirit," Green Day's "Boulevard of Broken Dreams"), marking his feature film directorial debut.
A talented ensemble of young actors play the teenagers now taking on Freddy Krueger, led by Rooney Mara ("Urban Legend: Bloody Mary") as Nancy, Kyle Gallner ("The Haunting in Connecticut") as Quentin, Katie Cassidy ("Taken," TV's "Supernatural" & "Melrose Place") as Kris, Thomas Dekker ("Terminator: The Sarah Connor Chronicles") as Jesse, and Kellan Lutz ("Twilight," "The Twilight Saga: New Moon") as Dean. The parents of the Elm Street kids are played by a talented supporting cast featuring veteran actor Clancy Brown ("Highlander," "The Shawshank Redemption"), Connie Britton ("Friday Night Lights"), and Lia D. Mortensen.