Rob Letterman To Direct, Nicolas Stoller To Rewrite Stretch Armstrong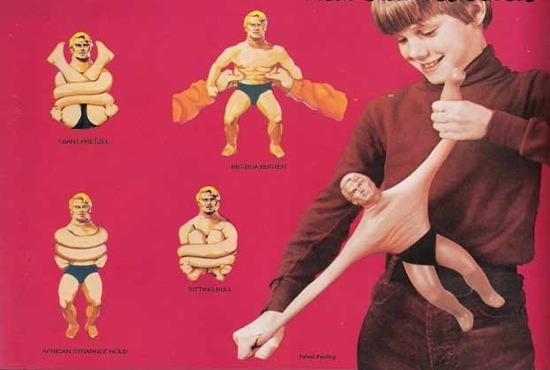 Who is going to direct the Steve Oedekerk-scripted big screen adaptation of Stretch Armstrong? And why should you care? Originally there were rumors that Academy Award-winning director Ron Howard (A Beautiful Mind, Frost/Nixon) would helm the toy adaptation. Then Twilight sensation Taylor Lautner joined the cast, skipping out on Max Steel.
And last month it was reported that Monsters vs. Aliens co-director Rob Letterman may helm the picture. And today HeatVision confirms this earlier report. Letterman just finished Gulliver's Travels with Jack Black, and has brought Forgetting Sarah Marshall/Get Him to the Greek writer/director Nicolas Stoller on board to re-write the script.
The studio has also billed the movie as a "3-D superhero adventure" to be released in 2012. Stretch Armstrong is based on the iconic action figure made popular around the world beginning in the 1970s and re-launched in the 1990s.  The film is part of Universal's multi-picture development deal with Hasbro to turn board games and toys into a series of possibly horrible probably pointless movies.
Kenner released the toy in 1976, a 13-inch blond-haired muscled action figure whose limbs could be stretched to nearly four feet. The plan is to start over and develop a superhero comedy out of the property, which to me doesn't seem much different in concept from Mister Fantastic of the Fantastic Four or Elastigirl from The Incredibles. Disney even tried and failed to make a film based on the property in the late 90's with Danny DeVito and later Jackie Chan attached.
I'm not saying that a Stretch Armstrong movie couldn't be good (logical thinking would lead you in that direction). Oedekerk is a pretty mediocre writer, at best. His filmography is filled with some bad to horrible films, including: The Nutty Professor, Ace Ventura 2: When Nature Calls, Kung Pow: Enter the Fist, Bruce Almighty and the sequel Evan Almighty. That said, Brian Grazer has a great track record, and his involvement might elevate this to something more.
That said, I also have a lot of faith in Stoller, who started as a story editor on the underseen/underrated television series Undeclared, and has written drafts for Fun With Dick and Jane, Yes Man, and Letterman's Gulliver's Travels, in addition to his two directorial efforts: Forgetting Sarah Marshall and Get Him to the Greek. Universal wants to shoot the film in 3D and Letterman certainly has experience in the format.
One thing is for sure, Universal and Hasbro are somehow luring big talent to these board game and toy properties.
Universal Pictures and Hasbro, Inc. formed the partnership in 2008 to produce at least four motion pictures based on some of the world's best-known and beloved brands. Currently in development are Monopoly, with Ridley Scott set to produce and direct and Pamela Pettler writing the screenplay; Candyland, with Kevin Lima to direct based on a script from Etan Cohen; Clue, with Gore Verbinski to produce and direct; Ouija, with Michal Bay to produce; and Battleship, with Peter Berg to direct from a screenplay by Jon and Erich Hoeber.