LOL: Sharlto Copley Reprises His District 9 Role For Funny Or Die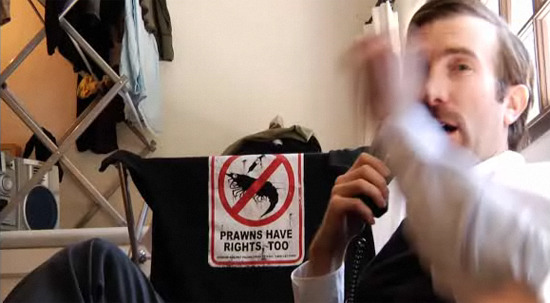 We've heard before that Neill Blomkamp would, in theory, like to bring Sharlto Copley back for a follow-up to District 9. But that's probably not happening any time soon.
But you can see Copley as Wikus van der Merwe once more, thanks to Wikus and Charlize, in which the District 9 character attempts to track down Charlize Theron to ask her about co-presenting an award with him at the South African Music Awards.
The conceit here is that it was actually Wikus playing himself in District 9 — he says he was 'discovered' by Blomkamp, for example. And this is very much in the vein of the first section of that film, where Wikus is bumbling and enthusiastic. He actually thinks he's an up and coming movie star. But that being the case, there are no mechs or mutations in this clip, sadly.
But there are some laughs as Wikus more or less stalks Charlize Theron, going so far as to end up outside her house with a boombox to remind her of the music of her youth.
According to the credits on Funny or Die, Copley actually directed and edited this piece himself, and it's a nice little piece of work.
[via Cinematical]