Mark Hamill And Jennifer Aniston To Direct Movies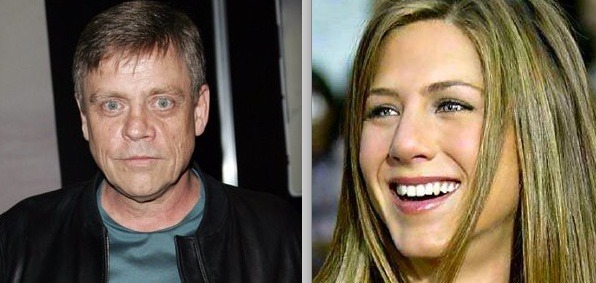 Mark Hamill and Jennifer Aniston: What they really want to do is direct? It would seem so.
Jen has apparently let slip that she's developing a film to direct. Why now? Here's her thinking:
After you get enough movies under your belt you sit back and go, 'What's next?' It's getting to a time where creatively I want to turn in a different direction.
And that direction is... direction. No clue, though, as to what the film might be about.
Ms. Aniston has directed before. Her short film Room 10 was made for the Glamour Magazine Reel Moments series. You can see that embedded below the break...
...as well as find out just what comic book adaption Mark Hamill seems to be getting ready for the silver screen.
Here's Room 10 parts 1 and 2, found via Cinematical.
There's slightly less mystery surrounding Mark Hamill's fiction feature directorial debut.
The Wrap's report comes from the Famous People Talkin' About Sh*t panel at the LA Comedy Festival, where Hamill gave the following clues as to what his movie is going to be:
It's based on a comic book that Hamill wrote, it's set in the real world, and "at first glance it's a drama, but it has dark humor."
So, basically then, it's The Black Pearl. If you don't know that comic (and I think the only reason I do is that I worked in a comic shop when it was coming out) it's about a costumed vigilante but, interestingly, a reluctant one who becomes the nexus for a frenzy of media and public opinion. I remember it fondly.
Hamill has said that he'd originally planned for The Black Pearl to be a movie. According to his comments to The Wrap, this new picture is being developed with two writers who "wrote a David O. Russell film for Paramount and now they've very hot. So now there are people who are willing to give us $30 million to make the movie. But if we took that deal, I wouldn't get to direct."
Instead, Hamill is trying to lock down an $8 million budget, keep the canvas chair for himself and "maintain creative control". Fair play, sir.
Anybody want to hazard a guess which David O. Russell film, and therefore which writers?