'Get Low' Trailer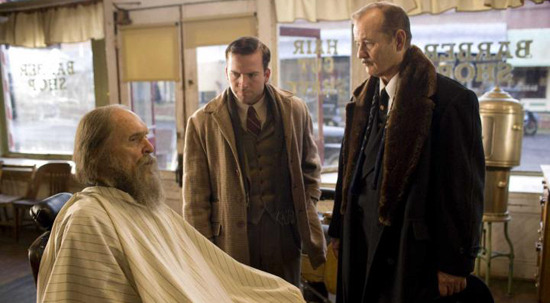 Get Low, which features Bill Murray as a scheming funeral director hired by an irascible hermit (Robert Duvall) to stage his own funeral while alive, did well at the Toronto Film Festival and was quickly bought by Sony Pictures Classics. Now there's a trailer for the odd-looking comedy.
Word out of TIFF was that Duvall's performance was outstanding, with great supporting work from Murray, Sissy Spacek and Lucas Black. That is all implied in the trailer, which has a Southern Gothic vibe with a small touch of Big Fish thrown in. I'm actually hoping to go into this film knowing as little as possible, so I'll present the trailer without much further ado.
Here's the synopsis. Trailer follows, and you can see the trailer in HD at Yahoo.
For years, townsfolk have been terrified of the backwoods recluse known as Felix Bush. People say he's done all manner of unspeakable things — that he's killed in cold blood; that he's in league with the Devil; that he has strange powers — and they avoid him like the plague. Then, one day, Felix rides to town with a shotgun and a wad of cash, saying he wants to buy a funeral. It's not your usual funeral for the dead Felix wants. On the contrary, he wants a 'living funeral,' in which anyone who ever had heard a story about him will come to tell it, while he takes it all in. Sensing a big payday in the offing, fast-talking funeral home owner Frank Quinn enlists his gentlemanly young apprentice, Buddy Robinson to win over Felix's business. Buddy is no stranger to Felix's dark reputation, but what he discovers is that behind Felix's surreal plan lies a very real and long-held secret that must get out. As the funeral approaches, the mystery – which involves the widow Maddie Darrow, the only person in town who ever got close to Felix, and the Illinois preacher Charlie Jackson who refuses to speak at his former friend's funeral – only deepens. But on the big day, Felix is in no mood to listen to other people spinning made-up anecdotes about him. This time, he's the one who is going to do the telling about why he has been hiding out in the woods.