Box Office: Kick-Ass Beats How To Train Your Dragon, But Not By Much [Updated]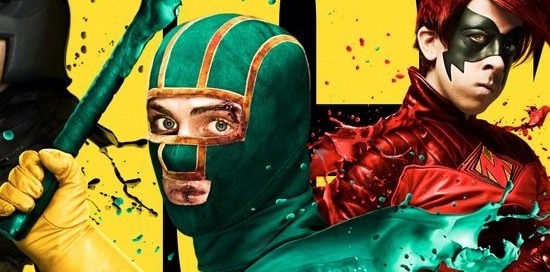 Update: The original Sunday Box Office estimates were a bit off, and Kick-Ass did end up beating How To Train Your Dragon, but with only a $200,000 differential. Kick-Ass wins the weekend with a $19.8 million take for the three days, while Dreamworks Animation's How to Train Your Dragon came in second with $19.6 million, representing only a 21 percent fall from last weekend. However, this does not change the fact that Kick-Ass disappointed at the box office. Original report can be read below:
In a shocker, DreamWorks Animation's How To Train Your Dragon beat out Kick-Ass at the box office over the weekend. Dragon, which is in its fourth week of release, managed to claw its way from #3 last week to #1 with an estimated $20 million. It seems like the good word of mouth has been making an impact at the box office. You may recall that we've been very vocally supportive of the film, despite the painfully bad marketing which resulted in a lower than expected opening weekend. Sadly, this is the same story for Kick-Ass, but will they get the same reprieve?
I have been very vocal about Lionsgate's attempts to market Kick-Ass as a colorful (see the poster art above) mainstream comic book movie with possible kid appeal instead of the violent vulgar r-rated geek-fantasy wish-fulfillment story that it actually is. Television commercials like this certainly didn't help the case. The hope was that Kick-Ass would earn $30 million or more in its first week in theaters, and the the positive word of mouth would give it legs. Instead, the first week looks to have resulted in only $19.75 million.
While the comic book adaptation had a small budget of $25-$30 million, we've seen reports that Lionsgate spent over $50 million on acquiring the film and P&A commitment. It will be interesting to see if the positive buzz will help the film theatrically in the coming weeks.
I'd love to see a sequel, but as of this moment — it isn't looking good. I would estimate that the film needs to make at very least $80 million theatrically for sequel consideration. Most of the time, a film's domestic box office ends up being a three time multiplier of the opening weekend. Of course, there are exceptions to the rule, like Avatar and How to Train Your Dragon. Kick-Ass may still have a chance, but we also think realistically — remember that Iron Man 2 comes out in just a couple weeks.
Here is the top ten thanks to Box Office Mojo:
Death at a Funeral (2010)
Clash of the Titans (2010)
Tyler Perry's Why Did I Get Married Too?
Alice in Wonderland (2010)