Rutger Hauer To Star In Feature-Length Version Of Hobo With A Shotgun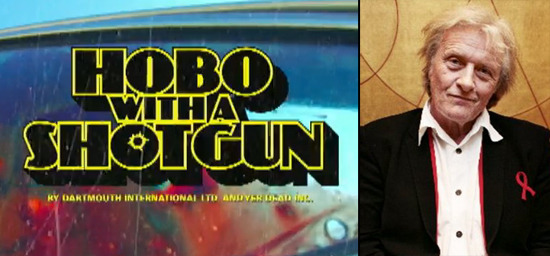 "I'm gonna sleep in your bloody carcasses tonight!"
In 2007 there was a contest at SXSW that invited filmmakers to create their own fake grindhouse-style movie trailers to go along with the promotion for the Quentin Tarantino and Robert Rodriguez film Grindhouse. The winner, by a great margin, was Hobo with a Shotgun, from Nova Scotia director Jason Eisener.
The young director, who worked in a comic book store when his film won the contest, saw Hobo with a Shotgun attached to Canadian prints of Grindhouse, and immediately started talking about the possibility of a feature-length version. It's taken a while to make that happen (Eisener has made the very popular short Treevenge in the interim) but now the feature version of of his grindhouse trailer is about to begin production. In the lead role, he's got a new hobo: Rutger Hauer. Is there any better casting choice than that?
AICN has the news, saying that the film starts shooting tomorrow. Neither AICN nor Twitch, which also reports the news, has any further detail on the film, other than the fact that original hobo actor David Brunt will appear as a cop.
I love seeing an enterprising filmmaker like Eisener get a chance to work on a bigger canvas, and I'm really curious to see how he makes this work. It seems like an even tougher task than expanding Machete. (Or MacGruber, for that matter, also based on very brief material.)
A big part of the appeal of the trailer was the narration, which frequently repeated the title in a growled voice that sounded half-drunk. "Hobo...with a shotgun!" How do you make this work as a feature, where tricks like that aren't available? Casting Rutger Hauer is a great start. Will this be a straight-up, grungy action movie, almost like a gun-toting companion to House of the Devil, or will Eisener push it in a more outrageous direction, to something that resembles Black Dynamite?
Here's the original Hobo with a Shotgun trailer (NSFW) as well as an embed of Treevenge.