'The Messenger' Director Oren Moverman To Direct James Ellroy-Scripted 'Rampart,' Starring Harrelson And Foster? Also Adapting William S. Burroughs' 'Queer' For Steve Buscemi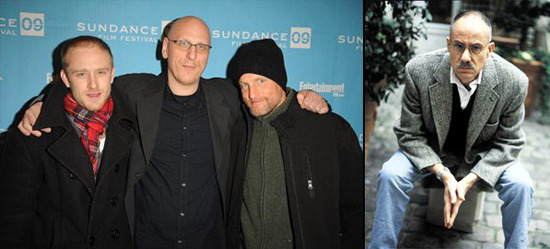 Oren Moverman's debut feature, The Messenger, was an excellent film. I've been eagerly awaiting final word on what his follow-ups might be. He's working on The Other Side of the Looking Glass now, for one. Today there's indication that, rather than making a Kurt Cobain biopic, he could make an LA cop drama called Rampart, based on a James Ellroy script.
The original kernel of info comes from a Production Weekly tweet that says Moverman might reunite with his Messenger stars Ben Foster and Woody Harrelson on the crime drama. That's great news right there: the trio worked amazingly well together in their first collaboration.
IonCinema did some digging and discovered that Rampart may be a film set up at Mark Gordon's company, and based on a script written by James Ellroy and originally intended to be directed by Stephen Frears. (Info on this remains tenuous, so if you know details to support or debunk this, let us know.)
This is where the world starts to swim around me a little bit. I'm a great admirer of many of Ellroy's books (I'm in the middle of his latest, Blood's a Rover, right now) and if you're going to make a film about the Rampart Division of the LAPD — as this film would appear to be — then there's no one I'd rather see writing than Ellroy. Combine that with the fact that the author has few produced screenplays, and I'm incredibly interested. (His Street Kings script, for example, kicked around for years before being heavily rewritten, produced and released in 2008.)
Ellroy has spoken about the Rampart Division before, as in an interview with the National Review Online, from 2005:
Rampart is another of these misperceived criminal conspiracies. It's really the story of a handful of rogue, criminal cops who ratted out a wider number of untainted cops to save their own skins. And the entire event blew out of proportion into a media event that most people took to represent large-scale endemic corruption in the LAPD. In reality it wasn't that. Cops are afraid to do their jobs now.
Ellroy has crafted many stories about cops and corruption, and the Rampart scandal, which erupted in the early '90s, should be fertile ground for him.
UPDATE: Variety says Moverman is writing based on a story by Ellroy.
This isn't the first time the Rampart Division has been targeted in a film. Several years ago, Sylvester Stallone planned to make a film called Rampart Scandal that would have seen him play a cop in the division. The film was really meant to be about the killings of Tupac Shakur and Biggie Smalls; it never really got off the ground, and the Biggie film Notorious hit screens instead. This isn't the same script — Rampart Scandal was to be rewritten by Stallone based on an original draft by Mikko Allane.
Meanwhile: Moverman adapted William S. Burroughs' novel Queer into a screenplay for actor/director Steve Buscemi at some point in the last couple years. Moverman just did a reading of the screenplay at the Sarasota Film Festival, with actors Buscemi, Ben Foster, Stanley Tucci, John Ventimiglia and Lisa Joyce on hand to read.
This project isn't really new — poking around now I see references to it going back a year or so — but it's the first I've heard of it. And the fact that a reading was just held with all that talent suggests it remains very much alive. Moverman working with material from both Ellroy and Burroughs? He might be primed to be one of my new favorites.
Queer is really early Burroughs, written in 1951, prior to his breakout Naked Lunch. Some elements of the novel ended up in the David Cronenberg film version of Naked Lunch. Here's a description of the book:
[Burroughs] reveals that the book had its genesis in a terrible event: his accidental shooting to death of his wife, Joan, a tragedy that released the black wellsprings of his talent. The narrative recounts the hallucinatory life of William Lee, an American in Mexico City in the 1940s and his journey to Ecuador with his reluctant lover, Eugene Allerton, in search of the drug Yage. Lee is Burroughs after the killing, weighed down by guilt, drugs, lust and despair; seeking lethe. Admirerers will find an early exposition of Burroughs's later themes here, as well as a strain of gallows humor. The work is almost cinematic as it unfolds; the author is not yet experimenting with the meaninglessness of language, and, indeed it is thin in both thought and expression.