Is Jonah Hex Delayed? No, Says WB, And Trailer Will Hit April 29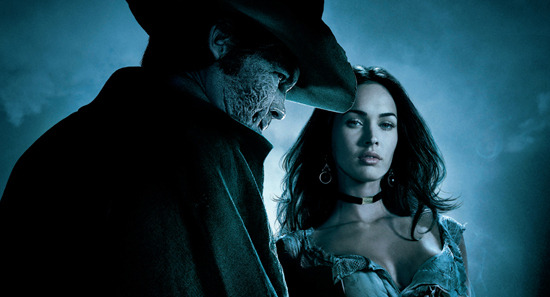 Where's Jonah Hex? We saw footage from the film at last year's Comic Con, but aside from a few reshoot reports and word of Mastodon sharing scoring duties, there's been basically nothing to report on the film since then. Few pics, no trailer. Earlier this week, as part of a rumor that suggested Lobo was dead at WB, there was a report that the studio isn't happy with the film.
Then Vulture talked to Brent Hinds of Mastodon, and based on his description of the scoring process and one comment in particular, many read the piece as saying "the film is delayed!" Reps for the movie, meanwhile, insist that we'll see a trailer on April 29, and that it will be attached to prints of A Nightmare on Elm Street. Meanwhile, Hinds' comments are still a window into the process of finishing the film.
Again, just to be clear, there's no reason to read the Vulture piece and assume the film won't meet the release date. Hinds is quoted saying that material he'd seen didn't look finished, but that could mean a lot of different things. But, with respect to getting the score finished, there are some good comments.
The basics are that Hinds and Mastodon were brought in by director Jimmy Hayward to add flavor to John Powell's score. Hinds says Powell welcomed the collaboration. But when additional shoots ('overseen' by Francis Lawrence) and editing changed the schedule, Powell had to leave the project in order to honor commitments to other films.
Marco Beltrami came in to finish the score and work with the band. But his ideas were different, and he wanted a different flavor from the material Hinds had previously written and recorded. At this point, Mastodon was on one leg of their extensive recent world tour.
And there was no way he could connect with me: They brought all the new scenes to us, but I was on tour this entire time, so I had no time to preconceive what I wanted the movie to sound like. Being so busy ... it's hard to be creative when you're going through the same motions every day [onstage]...I totally had to go back and start over again.
More than anything else, I hope we'll get to hear all he music Mastodon wrote and recorded, whether it ends up in the film or not. Speaking about his first sessions for the Powell score, Hinds says "I blew my wad over there. It was some of the best shit I've ever written in my life. Now I'm just trying to finish with as much patience as possible."
Meanwhile, Collider spoke with sources close to the film, which insist that the release date is in place and the trailer will hit as mentioned above.
The picture below is the latest of Josh Brolin in makeup as Jonah Hex; it comes from Entertainment Weekly, as scanned by Peter. You can click to enlarge slightly.