/Film Is Going To Cannes And You Could Too, Thanks To Stella Artois!

Over the past five years, /Film has traveled the globe, covering events such as the Sundance Film Festival, Telluride Film Festival, Fantastic Fest, Toronto Film Festival, Independent Film Festival of Boston, London Film Festival, Comic-Con, WonderCon and many others. One event we've never been able to attend is the prestigious Cannes Film Festival. Bottom line, it is such an expensive trip and we've never had the budget to go. Until this year...
The 63rd Cannes Film Festival will soon be upon us (check out the lineup) and this year /Film is fortunate to be able to go, thanks to the generous sponsorship of Stella Artois. While the festival is always an exhilarating experience, full of amazing sights, sounds, and, of course, films, this year, you might actually have the opportunity to join us by inheriting the place of Jacques D'Azur, "The King of Cannes." Hit the jump to get the details on Stella's new contest.
To enter for a chance to win an unforgettable weekend in France, just head on over to StellaArtois.com, and use Facebook Connect to link the site to your Facebook page. The site will then play around with some of your photos before prompting you to "Add your name to the will." After that, you're done! Note that you can only enter if you're over 21 and do not live in the state of California.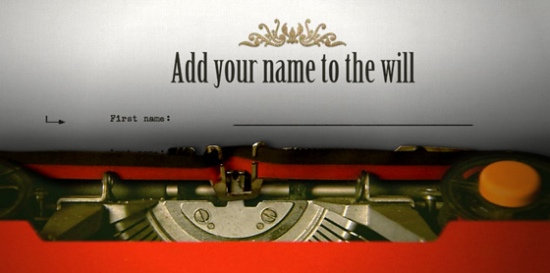 Cannes promises to be an unforgettable experience this year. We're grateful to Stella for providing us, and our friends at FirstShowing, with  the opportunity to cover it for you. We hope you'll enjoy our coverage, and we hope to see one of you there!