John Malkovich Confirms He Would Have Played The Vulture In The Never-To-Be Spider-Man 4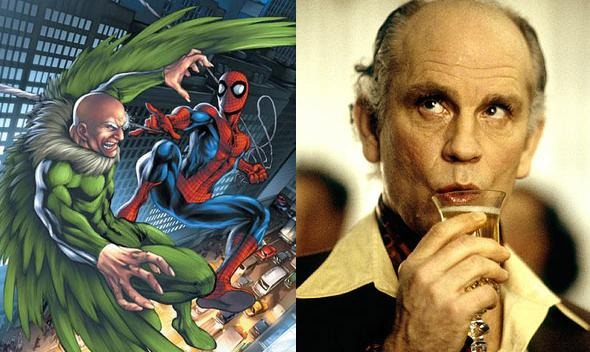 While visiting the sweltry set of Red this month, /Film had the pleasure of hanging and chatting a bit with John Malkovich. The iconic actor's thoughts on the 2010 Warren Ellis comic book adaptation remain under wraps, but Malkovich also took a sec to extend on his
in Sam Raimi's (thankfully?) never-to-be Spider-Man 4. In what seemed to be the first official confirmation straight from the actor—mark your journals—Malkovich divulged he was to battle Tobey Macguire as the winged super-villain The Vulture. After the jump are his quotes on the once upon a role. (Sure, it's the geek equivalent of a GF pondering last night's crazy dream about a labyrinthian mall...but better.)
"Well, I think a lot of the people who sort of follow that genre... I'm not sure, I never really spoke with Sam about this, but I'm not sure they—maybe the kind of fanbase, the fanboys—either didn't approve of [The Vulture] as an adversary for [Spidey] to some extent...or maybe the studio [didn't]. Or maybe that was totally unrelated to why it fell apart."
On set, I was surprised by how genuinely bummed Malkovich seemed to be about The Vulture not becoming a reality, probably because I still—rather inexplicably—consider him to be above popcorn franchises. When it was inquired if he actually watched and enjoyed many of the recent blockbuster spectacles coming out of Hollywood, Malkovich admitted that he checked them out when he had the time. He also said he found Transformers to be "fine" and looked forward to his sizable supporting role opposite Shia LaBeouf in Transformers 3. More on The Vulture...
"Yes [I was disappointed]," he says. "But because I like Sam and I like Toby [Maguire] and all that stuff, and the producers, two of whom I'd met before because I'd been offered [Green Goblin on] the first [Spider-Man]... I came to like them, so sure why not? But it didn't play out."
Those who follow /Film already know the
for a new, more teen-oriented Peter Parker in director Marc Webb's reboot of the franchise. This year, Malkovich has Red and the racehorse biopic Secretariat (both due in theaters in October) and will next be seen as a villain in another PG-13 comic book movie, this summer's buzz-challenged Jonah Hex. On the subject of mourning genre hypotheticals, pour one out for a Jonah Hex directed by Crank's Mark Neveldine and Brian Taylor, as originally planned, with a trigger-happy Malkovich chewing up scenes Con-Air-style.
Discuss: John Malkovich as The Vulture: What Would Have Been?