Warner Bros. To Remake Swedish Thriller 'Snabba Cash' With Zac Efron Starring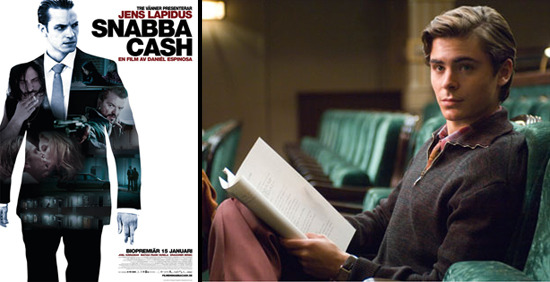 Not long ago, a bidding war erupted in Hollywood over the rights to remake a Swedish crime thriller called Snabba Cash (Easy Money). Now there is a winner: Warner Bros. The studio will remake the film with Zac Efron producing and starring.
THR's report suggests that the studio has to get on this one, as the remake deal has a clause that allows the original producers to take back the rights if the studio doesn't move too quickly on the remake. But don't expect that to mean this won't happen. If WB signed that deal, expect this to actually have enough momentum to go forward now.
The original film was a smash in Sweden, and is based on a novel by Jens Lapidus. It tells three interconnected tales, with the primary story following a young financial genius who wants to get rich quick by running coke. As you'd expect, things go rather wrong. 'Go wrong,' like having Efron play the character in an American remake? We'll see.
We featured the trailer for Snabba Cash back in December, and you can see it again below. Part of the appeal of that version is a heavily stylized visual sense, which is readily on display in the trailer. We don't yet know who'll direct the American version, but it would be a great mistake to attempt to directly imitate the look of the original film. Not that it will likely stop whoever eventually gets the gig.
Meanwhile, what of Daniel Espinosa, director of the Swedish version? (He's a child of Chilean parents, hence the unexpected last name.) Espinosa's profile has been as high as that of his film recently, but while he and his reps are looking for a film to be his English-language debut, he hasn't yet locked one down.