'The Haunting In Connecticut' Editor To Direct 'A Haunting In Georgia'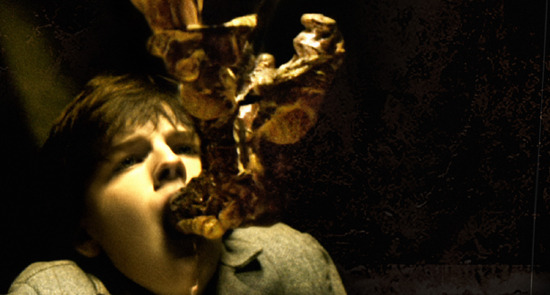 Want to become a director? Start working as an editor, and angle for horror/thriller gigs. As an example, Kevin Greutert edited the Saw films before directing the sixth and now seventh films in that franchise. (And was tapped to direct Paranormal Activity 2 before LionsGate said no.)
And now Tom Elkins, who edited The Haunting in Connecticut, is being promoted. He'll direct that movie's follow-up, A Haunting in Georgia.
Not that the path from editor to director usually even looks so facile. But Elkins, who has seemingly worked his way up from PA (Gattaca) to the production office (The Big Lebowski) to the editing room (Wanted, and then Connecticut) would appear to have exactly the sort of career trajectory that a lot of people want when they start out working on set.
THR says production will start in August on the film, which is about "the true story of a young family imperiled by mysterious entities inhabiting their property in the rural South." How 'true' the story is remains to be seen, of course. Connecticut was supposedly true as well, but at best it was based on a kernel of a story — most of the tale was fabricated. But the 'true story' tag apparently puts at least some asses in seats, especially when it comes to a film like this. David Coggeshall, writer on the TV shows Desire and Watch Over Me, is writing.The Haunting in Connecticut was actually better than I ever would have expected. Not good, particularly, but it had some standout moments and a few actors that were fun to see in that context. (Virginia Madsen, Elias Koteas, Martin Donovan, etc.) If Elkins and his producers can assemble a similar cast for this film I'll be ready to check it out.