This Week In DVD & Blu-Ray: Pirate Radio, The Slammin' Salmon, Defendor, And More
We may receive a commission on purchases made from links.
This Week in DVD & Blu-ray is a column that compiles all the latest info regarding new DVD and Blu-ray releases, sales, and exclusive deals from stores including Target, Best Buy and Fry's.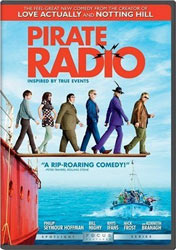 PIRATE RADIO
Pirate Radio—also known by its original, less insipid title, The Boat That Rocked—really wants you to like it. It's an exuberant, rowdy dose of Rock 'n' Roll silliness, sloppily but enjoyably slapped together with a continuous stream of classic '60s tunes blasting in the background. It's also an entirely inconsequential affair, lacking any real desire to thoughtfully tackle the historical significance or impact of illegal radio stations in Europe, or even approach its near dozen subplots with the slightest bit of honest emotion or genuine character interaction. And frankly, there's absolutely nothing wrong with that, so long as all you're looking for is a rollicking bit of escapist fun. It's the sort of movie where one of its antagonists—the right-hand man to a stuffy government minister who hates all things considered cool or fun—has the name Twat, and is repeatedly referred to as such. That should suitably demonstrate the level of depth we're talking about here.
Available on Blu-ray? Yes.Notable Extras: DVD – A commentary from director Richard Curtis, producer Hilary Bevan Jones and actors Nick Frost and Chris O'Dowd, and deleted scenes. Blu-ray – Includes everything on the DVD, as well as 6 featurettes ("Tuning In", "7 of Heaven", "All at Sea", "Getting Ship Shape", "Hitting the Decks", "Mark's Love Den").
BEST DVD PRICE
Target
Best Buy
Fry's
$19.99
$19.99
$15.77
Amazon – $18.99
BEST BLU-RAY PRICE
Target
Best Buy
Fry's
$22.99
$29.99
$23.99
Amazon – $23.99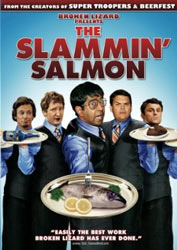 THE SLAMMIN' SALMON
It's hard to muster much indignation over Broken Lizard's latest being dumped (essentially) straight-to-DVD. Since Super Troopers, the comedy troupe hasn't exactly proven themselves worthy of repeated trips to the cineplex. The Slammin' Salmon does nothing to break that pattern, but makes for a mostly inoffensive viewing experience nonetheless. It's pretty much the closest a comedy can come to being enjoyable without ever being particularly funny. The one exception, and without question the primary reason to see the film, is Michael Clarke Duncan, playing a former heavyweight boxer who owns the restaurant. Duncan takes the traits of this character—the jumbled speech, the aggressive personality, the unprovoked bursts of violence—and turns him into an unstoppable force of pure screwball perfection. The goofy comedic nature demonstrated by Duncan's character also permeates the rest of the film, but to far less effective results. As useful as it might be to offer a comparison of quality to Club Dread and Beerfest, I literally cannot recall a single thing that happens in either of them; come time to discuss Broken Lizard's next offering, I suspect that the same will be true of this film as well.
Available on Blu-ray? Yes.Notable Extras: DVD & Blu-ray – Two audio commentaries, and a featurette ("Hellish Kitchens: Art Imitates Restaurant Life").
BEST DVD PRICE
Target
Best Buy
Fry's
$22.59
$19.99
$15.77
Amazon – $21.49
BEST BLU-RAY PRICE
Target
Best Buy
Fry's
$25.99
$20.99
$19.97
Amazon – $20.99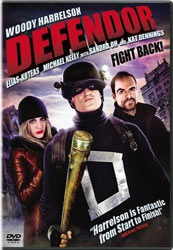 DEFENDOR
We've come a long way since Blankman. That film may have marked the earliest filmic incarnation of the real-guy-tries-to-be-a-superhero concept, but with the popularity of superhero flicks at a decade-defining high, the time has evidently come for a resurgence. Though general audiences probably won't be familiar with any additions to this incredibly specific subgenre outside of Kick-Ass, there have actually been several low-budget attempts to bring this concept to the screen already released: Special, Mirageman, and now Defendor. How does Defendor fare? Pretty well, if you're open to a more realistic, less action-oriented approach than what Kick-Ass has to offer. Woody Harrelson plays Arthur, a delusional simpleton who believes he's a superhero. Despite being billed as a comedy, the movie is more dramedy, with a lot of attention being paid to the real world consequences of Arthur's actions. The film is enjoyable and engaging, but not perfect—Arthur isn't the most rounded of movie characters, and his simplicity occasionally makes the movie feel as though it's spinning its wheels a bit. Thankfully, Harrelson is so good in the role, he managed to hold my interest even when his character failed to.
Available on Blu-ray? No.Notable Extras: Cast & crew commentary, behind the scenes featurettes, deleted scenes, and outtakes.
BEST DVD PRICE
Target
Best Buy
Fry's
N/A
$19.99
$24.99
Amazon – $19.99
Other noteworthy DVD (and Blu-ray) releases this week...Tenderness – Tenure – Haunted (The Complete Series) – The Great Mouse Detective (Mystery in the Mist Edition)Noteworthy Blu-ray-specific releases this week...A Nightmare on Elm Street – Apollo 13 – Gone With the Wind (The Scarlett Edition)

NOTES: Some deals may be in-store only. All deals are for DVDs unless otherwise noted.

Exclusive Retail: Crazy on the Outside (DVD – $10, Blu-ray – $19.99), Tim Allen's latest comedy and directorial debut, also starring Sigourney Weaver and Ray Liotta. Includes: behind-the-scenes interviews, bloopers, and a digital copy.$4.75 – Edward Scissorhands (Anniversary Edition), and more...$10 – Observe and Report, Land of the Lost, Marley & Me, and more...

$19.99 – Blu-ray sale: The Hurt Locker, Fantastic Mr. Fox, Zombieland, Up in the Air, The Princess and the Frog, Law Abiding Citizen, The Boondock Saints II: All Saints Day, and more...$3.99 – Bowfinger, The Chronicles of Riddick, What Dreams May Come, Bride of Chucky, American Pie 2

$12.99 – Blu-ray sale: Layer Cake, Go, Universal Soldier, Rudy, Donnie Brasco, La Femme Nikita, Jerry Maguire, The Deep, Resident Evil: Apocalypse, Seven Pounds, and more...