Andrew Niccol To Write And Direct 'I'm.mortal'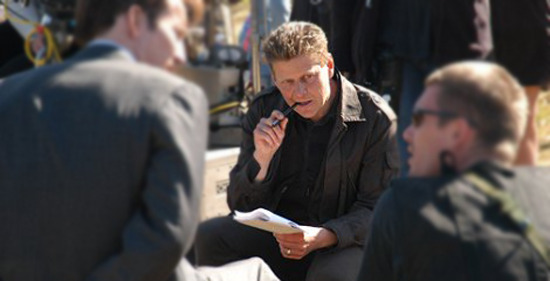 Update: I'd originally had the film's title as I'm Mortal, but the spelling seen in the headline and below is actually the correct one.
Looks like Gattaca and Lord of War director Andrew Niccol may have a new 'next movie' set up. Last year, it seemed like Niccol was moving forward on The Cross, but now his script I'm.mortal has on the verge of being picked up by New Regency, with Strike Entertainment (Dawn of the Dead, Children of Men, the new The Thing prequel) negotiating to produce.
THR reports the deal, saying that the script is "set in the not-too-distant future where the aging gene has been switched off. To avoid overpopulation, time has become the currency and the way people pay for luxuries and necessities. The rich can live forever, while the rest try to negotiate for their immortality." Within that setup, the script really follows a young man who somehow comes into a fortune's worth of time, and is soon on the run from a de facto police force called 'time keepers.'
That is, in short, a pretty great idea, at least with respect to the backstory created for the film. It's got shades of classic pulpy movie sci-fi like Logan's Run and Niccol's own concerns as seen in Gattaca.
Meanwhile, what about The Cross, which seemed like it was destined to be Niccol's next film? THR doesn't even mention it, and IMDB lists the production as canceled. It had gone down at least a portion of the road through development. A cast was attached (Orlando Bloom, Olga Kurylenko, Vincent Cassel) and the film was being pre-sold at the European Film Market over a year ago. In September of last year the film still seemed like a going concern, but anything can happen when trying to get an ambitious movie financed.
THR mentions that I'm.mortal could be Niccol's most commercial script yet, while The Cross sounds decidedly dour and non-commercial. Part of the commercial aspect for I'm.mortal is that it would feature a host of young actors, which could both keep the budget down and make the film more attractive to younger audiences. That would definitely be a change for Niccol — while young audiences that are looking for a certain type of movie have always found his stuff, he's hardly been a go-to guy for popcorn entertainment in the past.