First Footage From The Congress, Ari Folman's Follow-Up To Waltz With Bashir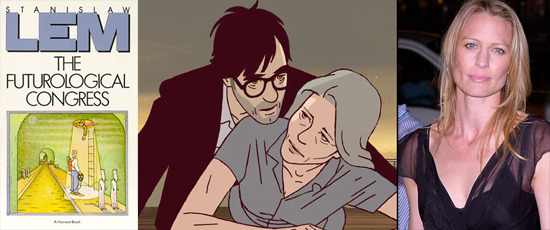 Back in January we brought you the first still from Ari Folman's upcoming The Congress, which adapts (and makes significant changes to) Stanislaw Lem's story The Futurological Congress. Now we've got the first bit of footage, and it looks wonderful.
The story follows a man living in a world in which reality has been supplanted by drug-induced hallucinations, but the film will be quite a bit different: Folman has cast Robin Wright as herself (or, more likely, as an analog of herself) to play an actress whose career has waned as her image has been sampled and endlessly reused by movie studios. As she moves into a future that is similar to the one described in Lem's novel, the film goes from live-action to animation.
The clip below only shows the animation, and there's no doubt that this is from the man behind Waltz With Bashir. The images are beautiful and just as forceful as some of that film's war footage. But here, there's that alternate future twist. So we get stuff that looks a bit sci-fi and a lot like Mad Max. (or, for the young'uns, the recent game Borderlands.) I'm really looking for ward to seeing how the blend between animation and live-action is managed (will it be a gradual shift, or a hard cut?) but I love this snippet of footage.
This clip is likely sourced from the film's appearance at Cartoon Movie, the animation symposium / sales conference held in Lyon, France last month. Sadly, the narration obscures most of Folman's comments. As far as I know, the film remains in production (please let us know if that is not the case) so it is unlikely to show up in any finished form at Cannes; we may have to wait until the fall for any more significant look.