Paper Man Trailer: Ryan Reynolds Is The Greatest Imaginary Hero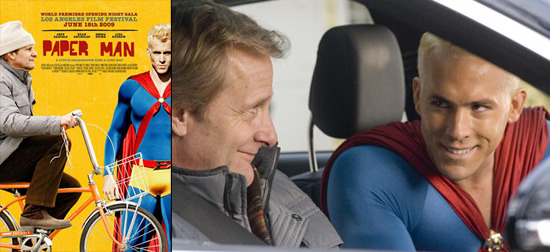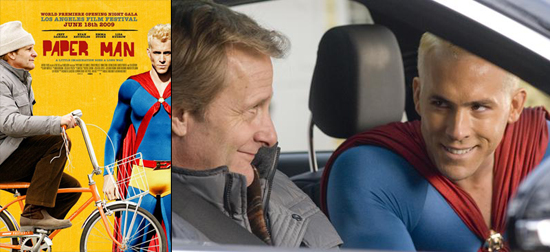 So there's a lot of speculation about what Ryan Reynolds will be like in Green Lantern. And while it likely won't give you much of an idea, you can have some fun seeing him as a much goofier superhero in the trailer for Paper Man. Here, Reynolds isn't even real; he's the imaginary creation of a failed novelist (Jeff Daniels) who strikes up a friendship with a 17-year old girl, played by Emma Stone. Most of you will get a kick out of Reynolds as he appears here; even in bleach-blond goofball mode, he manages to look heroic.
The narration in this trailer is awful. Simply awful — I don't think there's any indie relationship movie cliche it doesn't hit. Same goes for the use of music and, in general, the way the trailer is cut.
BUT...Reynolds looks great. A little goofy and super-charming as the bleach-blond and spandex-clad superhero that is born of Daniels' imagination. And once you get beyond all the too-familiar indie tropes, the rest of the movie looks like it has promise as well. I like what I'm seeing of Daniels, and while Emma Stone seems to be playing basically a variation on other Emma Stone characters, I wonder if here it will feel natural and fitting.
And there are little touches, like that couch made of a pile of Daniels' character's unsold novels, which hit the right notes with me.
The film has been playing festivals since last summer, but I haven't heard that much about it. Might not be a good sign, but I'm in it just to see how Reynolds interacts with Daniels. And there's another twist to the story that may or may not have much impact, but I won't spoil it here.
[via Rope of Silicon]