Predators Screenwriters Hired For Masters Of The Universe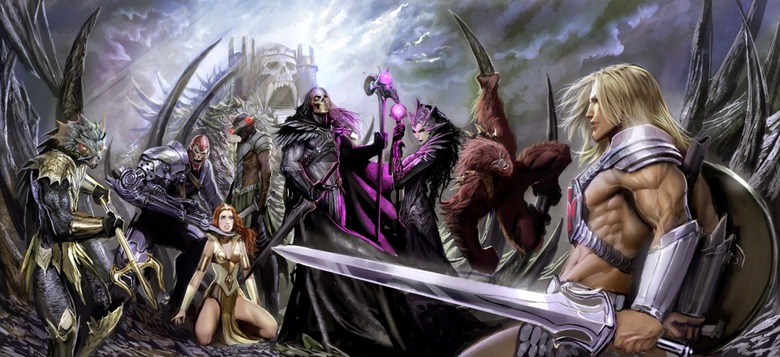 Columbia Pictures has hired Predators scribes Mike Finch and Alex Litvak to pen the new big screen adaptation of Masters of the Universe. HeatVision reports that the scribes "attempted to balance a treatment that would convince the studio it was cinematic and keep the toy company satisfied that its characters were being portrayed appropriately" in their pitch.
Finch and Litvak turned heads in Hollywood last year, selling a spec titled Medieval for $800,000 against $1.6 million.  McG was set to direct, and later Rob Cohen became involved.
In September, Warner Bros completely dropped the development of the project despite Justin Marks' screenplay gaining big traction from internet buzz and Kung-Fu Panda director John Stevenson signing on to direct. Columbia Pictures / Escape Artists picked up rights to the Mattel property, and it was announced that Stevenson and Marks were both no longer involved with the project. Finch and Litvak will now develop the project from the ground up, abandoning all previous drafts/concepts.
Marks script, which was described as "Lord of the Rings meets The Matrix meets Batman Begins", was enough to get us excited about the project – we even listed off five reasons the movie could actually be cool. And lets face it, "cool" is not even in the first 50 words that would normally come to mind when thinking about a He-Man movie.
The He-Man and the Masters of the Universe toy line spawned the popular animated series ran from 1983 to 1985. They later created a 1990 futuristic sci-fi cartoon, a 2002 remake, and a horrible 1987 live action film which stared Dolph Lundgren.
For those of you who don't remember the series, Adam, the Prince of Eternia, possesses a magic sword, and when he holds it aloft and says the magic words "By the power of Grayskull… I HAVE THE POWER!" he is transformed into He-Man, the most powerful man in the universe. A brave blond muscleman in a baldric and loincloth, He-Man battles against Skeletor's repeated attempts and failures to enter Castle Grayskull.
fan art created by nebezial