Kooky's Return Trailer: This Time, With Subtitles And English-Language Website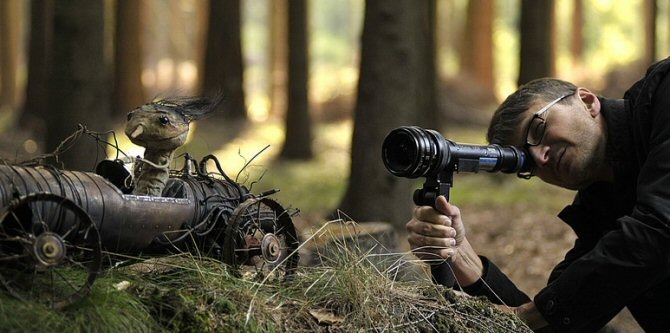 Not long ago I posted the trailer for Kooky's Return, a beautiful-looking film by Jan Sverák (director of the Best Foreign Film Oscar-winning Kolya) that combines live-action and puppets for a slightly off-beat, very imaginative look at childhood. At the time the trailer featured no subtitles. Just after posting, however, I got in touch with the film's production designer, Jakub Dvorský, and he recently mailed to point out that the trailer is now subtitled. So here's an encore presentation.
Watch the trailer and read the info below and you'll see why I'm excited about this film. But I was even more excited to find that Jakub Dvorský had a hand in it.
Gamers may know Dvorský by his alter-ego, Amanita Design, through which he has been responsible for several truly wonderful flash games: the two episodes of Samorost and, more recently, Machinarium. (If you're unfamiliar with these, you can play the Samorost games for free, and here's my AV Club review of Machinarium.) The sensibility of Amanita Design captured my interest right away, and looking again at this trailer, it is easy to see the convergence.
Here's the synopsis from the recently-launched English-language website, with the subtitled trailer following. (Note: I originally used the title translation Kuky Returns, but am basing the different translation used here on the materials Dvorský sent along. The website suggests the English title for the film may end up being merely Kooky.)
When asthmatic, six-year-old ONDRA is forced to throw away his scruffy, sawdust-stuffed old teddy bear, KOOKY, he prays for the safe return of his furry friend. Soon afterwards, across town, Kooky is about to be crushed in a rubbish dump when he suddenly comes to life, making his escape into a mysterious forest. The naïve, cuddly Kooky needs help to survive amongst the rough-and-ready creatures of the forest and he finds it when he meets the crotchety forest guardian HERGOT. Hergot is in charge of watching over the forest, but he has his enemies too – the malevolent NIGHTSHADE plans to take over the forest, by proving that the short-sighted but good-hearted Hergot is not up to the job of guardian.