34 High Resolution Photos From The Losers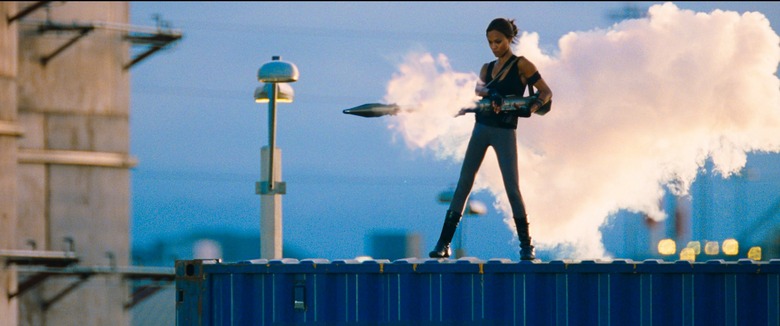 Warner Bros has released the final press kit for The Losers, which contains 34 high resolution production photos (some of which you've seen before) and production notes. Check them out now, after the jump.
Synopsis
An explosive action tale of betrayal and revenge, "The Losers" centers around the members of an elite Special Forces unit sent to the Bolivian jungle on a search and destroy mission. But the team–Clay, Jensen, Roque, Pooch and Cougar–soon find that they have become the target of a deadly double cross, instigated from the inside by a powerful enemy known only as Max.
Making good use of the fact that they are now presumed dead, the group goes deep undercover in a dangerous plot to clear their names and even the score with Max. They are joined by the mysterious Aisha, a beautiful operative with her own agenda, who is more than capable of scoring a few points of her own. Working together, when they're not arguing amongst themselves, they have to stay one step ahead of the globetrotting Max–a ruthless man bent on embroiling the world in a new high-tech global war for his own benefit. If they can take down Max and save the world at the same time, it'll be a win-win for the team now known as The Losers.
"The Losers" stars Jeffrey Dean Morgan ("Watchmen") as Clay; Zoë Saldana ("Avatar," "Star Trek") as Aisha; Chris Evans (the "Fantastic Four" films) as Jensen; Idris Elba ("Obsessed") as Roque; Columbus Short ("Stomp the Yard") as Pooch; Oscar Jaenada ("Che: Part Two") as Cougar; and Jason Patric ("In the Valley of Elah") as Max.
Sylvain White ("Stomp the Yard") directed the film from a screenplay by Peter Berg and James Vanderbilt, based upon the comic book series written by Andy Diggle, illustrated by Jock and published by DC Comics/Vertigo. "The Losers" is produced by Joel Silver, Akiva Goldsman and Kerry Foster, with Steve Richards, Andrew Rona, Sarah Aubrey and Stuart Besser serving as executive producers and Richard Mirisch co-producing.
The behind-the-scenes creative team was led by director of photography Scott Kevan ("Stomp the Yard"), production designer Aaron Osborne ("Kiss Kiss, Bang Bang"), editor David Checel ("Stomp the Yard"), visual effects supervisor Richard Yuricich ("Orphan"), and costume designer Magali Guidasci ("Zombieland"). The music is by John Ottman ("Orphan," "Valkyrie").
Warner Bros. Pictures presents, in association with Dark Castle Entertainment, a Weed Road Pictures production, "The Losers," to be distributed by Warner Bros. Pictures, a Warner Bros. Entertainment Company.
The film has been rated PG-13 by the MPAA for scenes of intense action and violence, a scene of sensuality, and language.
The Production
Anyone else would be dead by now.
"The Losers have fun while they kick butt." Director Sylvain White succinctly sums up the appeal of the ex-special forces unit that comes to the big screen from the pages of the popular DC/Vertigo comic book series, by the team of writer Andy Diggle and artist Jock.
As a fan of the original comics, White wanted to capture the same irreverent style in the film "The Losers." He relates, "When I read the comics, the first thing that really struck me was the sense of humor Diggle and Jock were able to inject into a very action-driven story. It was such good source material, and I wanted to stay true to it by reflecting that tone in the movie."
Producer Joel Silver agrees. "The great thing about 'The Losers' is that it doesn't take itself too seriously, which originated with the comics, of course. But much of that attitude also came from the screenwriters, Peter Berg and James Vanderbilt, who brought so much to the table, and a lot came from Sylvain, who delivered a strong, visual cinematic style that I think feels fresh and hip and cool."
Producer Akiva Goldsman was already familiar with Sylvain White's work from the director's feature film debut, "Stomp the Yard," a drama centered around a step-dancing competition. "And yet," Goldsman says, "there was a construct to the dancing in it that made it very much like martial arts, which spoke to the style he wanted to bring to this movie. Sylvain has a really good eye and a terrific sense of character and action. When he showed us what he wanted to do with 'The Losers,' we were all impressed."
Employing his graphic arts background, White had created a full storyboard for the film that told the producers all they needed to know. "Sylvain came in and gave us a dazzling presentation," recalls producer Kerry Foster. "He was so passionate and had such a clear vision for the movie that we knew he was the perfect choice to direct it."
White says he not only drew inspiration from the original comic books but also from the screenplay. "It had a light tone paired with very gritty, visceral action. That can be a very difficult balance to maintain, but Peter and Jamie did it perfectly."
James Vanderbilt, who collaborated with Peter Berg on the screenplay for "The Losers," notes, "I was raised on Joel Silver movies like 'Die Hard,' 'Lethal Weapon' and '48 Hrs.,' and that is my favorite type of action film–where there are real emotions, but not everything is so dire all of the time. The stakes are high, but the characters seem to be having a good time...and we have a good time with them."
"The Losers are fun; you want to hang out with them," White affirms. "They are not superheroes, they are real guys; in fact they're underdogs who find themselves in what I would say is an extreme situation."
"We're not soldiers anymore. We're fugitives."
Despite what they are called, "The Losers" started out as anything but. Rather, they were an elite black ops unit, who were called upon for only the most perilous missions.
But in the jungles of Bolivia, while on a secret mission to eliminate a powerful drug and arms dealer, they are betrayed by a shadowy government operative named Max, who has his own reasons for wanting them eliminated...and almost succeeds.
"They're left for dead and left taking the blame for the innocent lives that were lost on their mission," White remarks. "Now they have to find their way back into the U.S. and redeem their names."
Being presumed dead does have its advantages. But, although no one may be looking for them, five "dead men" can't exactly walk back into the country without drawing unwanted attention. They need help and they find it in an unlikely source: Aisha, who is as beautiful as she is mysterious. Before they can reclaim their lives, however, they will have to deal with Max.
Each member of the team–Clay, Roque, Jensen, Pooch and Cougar–has a specialty that makes him individually strong. Together, they are unstoppable...or so they hope.
CLAY – OPERATIONAL CONTROL
Jeffrey Dean Morgan is Clay, The Losers' man in command, whose entire identity had been wrapped up in being a soldier. After the team is betrayed, however, he is forced not only to fight for his country and his men but also his name.
Morgan offers, "His rank is colonel and that had defined him. Without that he has to question who he is, but he still has to lead this ragtag group. The leadership thing came naturally to me. It helped that I'm older than most of the guys in this movie, so I immediately wanted to kick their butts anyway," he deadpans.
"Clay is a hardened man, but he has a definite sense of humor and I loved the dry wit of the script," Morgan continues. "That can be difficult for a writer to capture on the page and a tricky thing for an actor to deliver. But I'm pretty sarcastic in real life," he smiles. "In fact, I tend to be even a little dryer than Clay, so that worked well for me in playing the part."
Sylvain White says he was sure Morgan was the right man for the role even before he actually met him. "He pulled up on his Harley and I knew instantly he was the guy. He's got this very cool, mature energy about him, a kind of old soul quality that makes him a born leader. Jeffrey is very likeable, very approachable, but there is also a bit of a dark edge to him, which was something he was able to layer very well into the character of Clay as he spirals down into his obsession to take revenge on Max."
"Jeffrey is that great combination of a tough guy with a heart of gold," adds Goldsman about the actor, who played a very different kind of soldier in "Watchmen," the film adaptation of the acclaimed DC Comics graphic novel. "He's handsome and rugged and can appear dangerous, but at the same time be kind and sensitive. It's a very mercurial quality that is hard to deliver, but he absolutely did."
JENSEN – COMMUNICATIONS & TECH
Chris Evans plays Jensen, the team's computer wizard, who can hack anything–or into anything–that comes his way. Even under cover on the other side of the world, he manages to keep up, via computer, with the standings of his niece's 8-and-under soccer team, The Petunias.
"In terms of the family dynamic of the team, he is kind of the kid," Evans admits. "He gets into mischief and cracks jokes at inappropriate times, but he cares about this group of people and loves what he does. He's quick with a smile and has limitless energy. I enjoy playing guys like that because you can't help but bring some of that attitude home with you."
"Jensen is the geek with a gun," White laughs. "Every character has moments of comic relief, but Jensen is probably the funniest guy in the movie. Chris had a ball with that because he is a genuinely funny person and was able to bring his own natural humor to the role. He is such a great guy to be around; he was always making us laugh, and that's basically who Jensen is."
"Chris was a wonderful addition to 'The Losers' cast," Goldsman says of Evans, who is already a favorite of comic book genre fans for his role in the "Fantastic Four" movies and has just been announced as the new "Captain America." "He is not only a talented and appealing actor, he also has the same sort of charm as Jensen, which is very engaging."
ROQUE – DEMO & TACTICAL
Idris Elba plays Roque, an explosives expert, whose personal weapon of choice is a knife...the bigger the better. Roque has been Clay's brother-in-arms for years, although Clay's dogged determination to exact revenge on Max, at any and all costs, is now causing friction between the two old friends. "Roque is a no-nonsense type of character," the actor observes. He's a straight talker, very to the point. He's an experienced soldier who's not very emotional about the job; he just gets it done."
White remembers, "When I first met with Idris, he told me about his ideas for how he could bring facets to the character of Roque because his story takes an unpredictable turn. He is an amazing actor; I knew he had the capacity to make his arc believable and yet surprising."
"I liked the character of Roque, and that I had enough room to make it my own," says Elba, who adds that there were other elements that appealed to him about the project. "The script was great–funny with a lot of larger-than-life action. And I've worked with Joel Silver before and am a fan of his movies, so that was another draw."
"Idris is one of those go-to actors," notes Silver who previously worked with the actor on "RocknRolla" and "The Reaping." "I always know he's going to give a great performance, no matter what the role. He can do drama, he can do comedy, he can do action, and there's all of that in this movie. This is my third film with him, and I'm sure it won't be the last."
POOCH – TRANSPORTATION & HEAVY WEAPONS
Columbus Short takes on the role of Pooch, the group's transportation expert, who "can rig, wire, fly, drive or commandeer any vehicle, and gets to shoot some pretty sweet weapons," states Short.
Pooch also has the most personal motivation for wanting to return home. Short explains, "Pooch's wife is about to have their first baby, and he desperately wants to get back in time to see his child be born. It makes Pooch kind of the heart of the group and adds to the guys' individual reasons for wanting to clear their names."
Short's motivations for taking the role involved both the script and the director. "The storyline was great and the writing was very clever and witty; I laughed out loud reading some of the dialogue and I loved the action," he comments.
The actor says he also appreciated the opportunity to reunite with Sylvain White, who had directed him in "Stomp the Yard," which marked his first leading role. "Sylvain is a very collaborative director; he gave me the freedom to discover things about my character that weren't necessarily in the dialogue. I couldn't imagine a better experience than working with him again on this movie."
White states, "I knew Columbus was perfect for Pooch from the get-go; I didn't even have to think about it. When I read the script for 'The Losers,' I felt that the character was the emotional anchor of the team. He's the family man and the kind of guy you want as a friend. And Columbus has a very warm soul and this sweet innocence about him that makes you care about him the second you meet him, so I pictured him as Pooch right off the bat."
COUGAR – LONG-RANGE ELIMINATIONS
Spanish actor Oscar Jaenada is cast as Cougar, the unit's crack sniper, who can hit any target with a steady hand, a cool eye and a quiet calm. "I loved playing a character who is more about sight than sound, more visual than verbal," Jaenada offers. "Cougar may be the quiet type, but he's always there watching out for his team. He's the strong, silent guy in the movie."
"Cougar is the mystery man of the crew," says White. "I met Oscar and thought he was incredible; he has such an expressive face and an amazing presence. We needed someone who could act with his eyes, and that's Oscar. He brought the character of Cougar to life in a way not many people could have."
Kerry Foster emphasizes, "Oscar was such a boon to the cast. He enjoyed the idea of playing the guy who doesn't need to speak to get his point across. He came in from Spain and wasn't able to arrive until the day before we started shooting, and I think the other guys were sad to see him because he was clearly the coolest of the bunch," Foster teases. "But he's just the sweetest man and everybody loved working with him."
"It's pretty much a suicide mission."
Despite their individual and combined skills, The Losers need help to sneak back into the U.S. undetected. That's where Aisha comes in. Zoë Saldana plays the woman who proves to be either a formidable ally or a dangerous enemy...or both. It's hard to know whose side she's really on–other than her own–but Clay is about to learn she usually comes out on top.
"Aisha appears to them out of nowhere just when the guys think there is no hope for them to get back home," says Saldana. "She makes them an offer that sounds too good to be true, but it's also an offer they can't refuse: she'll get them back into the country, but then they have to deliver Max. They decide to take her up on it, but there is mistrust from the beginning because they don't know what this woman is hiding up her sleeve," the actress smiles.
White, who had been a fan of Saldana's even before her recent roles in the sci-fi blockbusters "Avatar" and "Star Trek," recalls, "When we started discussing the role of Aisha, I instantly thought of Zoë. She has remarkable acting chops, but she also has the physicality the role demanded. Aisha is not the lady in distress; quite the contrary, she's the badass who actually rescues the men. She's very capable, very strong and very determined, and Zoë brought her own genuine strength to her performance. She also happens to look very much like the character in the comic book, so we were thrilled when she said yes."
Joel Silver adds, "Zoë is beautiful and sexy and exciting–all the things Aisha needed to be. We wanted Aisha to be a match for the guys and then some. She's tough, smart, opinionated and able to mix it up, and everything we expected of the character, Zoë delivered to the role."
"You know that if we do this, we are waging
a war against the Central Intelligence Agency."
The man who targeted The Losers–and who is now their target–is Max, a shadowy and ruthless government operative, who is now operating by his own set of rules to keep America on top. And if a few billion dollars end up in his pocket along the way, even better.
Jason Patric, who plays the role of Max, affirms, "He has his own manifesto and a twisted sense of patriotism that I thought was funny and even a little topical today. Max has a bit of a swagger and an overconfidence, which I think he uses to hide the fact that he's been beaten down in the past. But I just tried to have fun with it."
"Max was probably the trickiest part to cast," White asserts. "We wanted to cast against type, and Jason has never played a true bad guy in a movie before. He came in with some great ideas for the role, and I thought he would help me create a unique character who is different from other villains we've seen. He brought this quirkiness to his performance that I think really sets it apart."
"Jason was terrific," Foster agrees. "He made Max menacing and eccentric and funny all at the same time. He's a villain you love to hate."
As do all self-respecting villains, Max also has a henchman named Wade, because, as Patric says, "Every bad guy should have a thug."
Wade is played by Holt McCallany, who offers, "Wade is a former special ops soldier, a very competent guy who has now kind of gone over to the dark side. He took all the skills he learned in the Special Forces and become a soldier of fortune. He's a guy who's essentially a mercenary. What makes him dangerous to The Losers is that he knows these guys. He knows their history and what they're capable of...and what a threat they are."
Judging by appearances, you can also tell what Wade is capable of. "You know Wade could physically take Max out any time he wanted to," White allows. "But Max is smart enough and manipulative enough to have Wade following his orders, no matter how outrageous they are. Holt played the character with just the right balance of fear, loathing and respect."
"CIA, NSA, Special Forces... We're not them."
Before the main cast of "The Losers" could portray a Special Forces unit they had to learn to behave like one. Former Navy SEAL Harry Humphries, who has served as the military advisor on a wide range of films, recently including "Iron Man" and "Transformers," was the film's military advisor and "training officer." Humphries relates, "I come from the Special Operations community and I feel a great responsibility to them, so it was very important to me that the actors, who obviously didn't have any prior tactical experience, look correct onscreen."
He and his team put the cast of "The Losers" through a rigorous training regimen. "I didn't try to turn them into total ninjas overnight," says Humphries, "but I looked at what they would be required to do in the script and concentrated on those skill sets, like proper weapons handling, dynamic room entry, fire and cover, etc. They were all excellent students. I was very impressed."
The actors had equal praise for their trainer. "Harry was a great instructor," Idris Elba states. "He taught us quite a few tactical maneuvers. He made sure we looked realistic, especially handling the gear and the weapons."
Columbus Short concurs, "Before I got there, I would not have known the first thing about dismantling or brandishing any sort of weapon. Now I feel like a weapons specialist. We were trained in the protocols known by every Special Forces operative in the world. It was very cool."
Since Oscar Jaenada was still in Spain at the time, Humphries sent a trainer based in Europe to teach the actor the rudiments of being an expert sniper. Humphries notes, "A former British SAS (Special Air Services) Operative named Tony Smith went down to see Oscar in Madrid and just immersed Oscar for a week in the mental and physical requirements of precision rifle shooting."
"It was very important for me to learn how to act like a real sniper," Jaenada says. "Tony taught me the right way to hold the rifle and I also had to learn about precision and patience–when to know the perfect moment to take the shot."
Armorers Michael Papac and Vincent Flaherty worked closely with Humphries to select and supply the right weapons to use in each scene, including Cougar's mammoth-scoped rifle, the Knights Armament SR-15.
Chris Evans points out that the most important thing he learned about the Special Forces was "I am not cut out to be one, that's for damn sure," he laughs. "We were out in the jungle doing those scenes, and I'm like, 'I need water...I need a chair...I'm sweating...I'm tired...There's mud, and bugs are biting me...' We've got a whole team of ex-Navy SEALS consultants who never even break a sweat, and I'm wondering when lunch is. Oh yeah, that's not for me.
"But seriously," Evans adds, "it was one of the coolest experiences I've had making movies. Where else would a guy like me get Navy SEAL training? It was fantastic."
One important aspect of the actors' training was learning to work together as a unit, which they all agree came naturally. "There is a shorthand between those guys, a special camaraderie, and I think we captured that," says Jeffrey Dean Morgan. "Within one or two days, we realized it had fallen into place as far as us all feeling like one team...with Sylvain White as the maestro."
White remarks, "The first time the cast was all assembled as a group they immediately bonded, and it was pretty clear that they had great chemistry between them. That's the kind of thing you can't really predict or bank on, so when it happens, you feel really fortunate. And I think it makes a big difference on the screen, too."
"Welcome back to the land of the living."
The action of "The Losers" unfolds around the world–from the jungles of Bolivia to New Mexico, from Mumbai to Dubai, and from Miami to Houston to Los Angeles, with various points in-between. Despite the diversity of the settings, the filmmakers were able to accomplish almost all of the principal photography on the island of Puerto Rico.
"We looked at quite a few places," White recounts, "but when we got to Puerto Rico, we saw that the island has a great infrastructure and different locales. It was very convenient because we could 'cheat' a variety of terrains within a relatively small distance."
"It was staggering what we found when we came to Puerto Rico to scout," Foster confirms. "There is a city, obviously gorgeous beaches, a close approximation of a desert, and a rainforest that was ideal to double for Bolivia. It's a beautiful island and the people could not have been more wonderful."
Filming on Puerto Rico, the filmmakers also took advantage of the dramatic backdrop of the Arecibo Observatory, the world's largest radio telescope. Jason Patric shot his first scenes there and, in the process, discovered something about himself. "I didn't realize I have a lack of fondness for heights, but I do now," the actor reveals. "It was a pretty daunting way to begin."
To craft the look of the film, production designer Aaron Osborne first went to the source: the original comic books. "What I noticed is that they used two or three colors to represent the tone of each setting, so I really tried to enhance that."
"Every chapter of the comic books is a new environment distinguished by different color palettes," White observes. I really wanted to do that in the movie as well–where every time we are in a new city or country, the aesthetic of the film changes completely, so there is no homogeneous look. It's very eclectic."
White collaborated with Osborne and cinematographer Scott Kevan to break down the images of the scenes. "We charted the whole movie with certain color schemes for each location and different shades as we moved from day to night," Osborne explains. "We were quite meticulous about it."
Color also came into play in the work of costume designer Magali Guidasci, who deviated from tradition by dressing the main protagonist, Clay, mostly in black, while the villain, Max, mainly wore white or light pastels. "Clay is a black-and-white type of guy," she says, "so he wears a black suit and white shirt–another type of uniform in its own way, make no mistake. Max is always in a very light color, if not pure white. We first see him in a white suit and black tie, as if to appear the opposite of Clay."
Form followed function with Cougar's trademark cowboy hat, which was the perfect accoutrement for a sniper whose eyes needed to be shielded from the deflecting glare of the sun. His clothes are in muted colors to allow him to fade into the background and he wears gloves with the trigger finger cut out. Function was also important in costuming Zoë Saldana as Aisha, in clothes that Guidasci describes as "simple and athletic. She wears boots where she can conceal extra weapons, but no heels for that lady. She needs to be agile–able to jump and kick ass."
In keeping with Jensen's fun-loving nature, the character wore a collection of T-shirts that were as colorful as his personality. The idea of the T-shirts began with the one Petunias shirt he wears to support his niece's soccer team. Guidasci offers, "Then Sylvain came up with the idea for Jensen to have a different funny T-shirt for almost every scene. Some we found and some were created by our graphic designer, Eduardo Gomez, and we also tried to make some of them subtly apropos to the moment."
Osborne notes that the filmmakers adopted the term "Loser style," which did not refer to the clothes of the characters but rather their surroundings. He elaborates, "Let me put it this way: anything we built in 'Loser style' either got burned, destroyed, shot up or blown apart."
For certain sets, where the action was going to be explosive, Osborne and his crew consulted with special effects coordinator John P. Cazin, as well as stunt coordinator and second unit director Garrett Warren. Clay's hotel room in Bolivia was the most obvious example of a set that was literally designed to be demolished.
"My first thought was, 'Oh, we're building a motel room...no big deal,'" admits Osborne. "But we had to design layer-by-layer, working everything out with John regarding the special effects, since we were going to burn down the entire room, and also with Garrett on the stunts, because people were going to be thrown around and putting their fists through the walls. So what seems to be a normal motel room was actually planned to the utmost detail. Every piece of furniture had to be replicated several times over because we were either going to burn it or smash it."
The motel room is destroyed over the course of an all-out brawl between Clay and Aisha, who, surprisingly, is more than a match for her larger opponent. "The fight scene between Clay and Aisha was amazing to create," says Warren, who had recently worked with Saldana on "Avatar." "They were both consummate professionals: Jeffrey is up for anything and Zoë has a dancer's physicality and loves doing stunts. We just pulled out all the stops."
"The thing I loved about the way Garrett designed the fight is that he made it very playful," Saldana comments. "When Clay and Aisha meet, you think they're about to hook up for a steamy scene and they end up kicking the crap out of each other. There's something sexy about a woman who can hold her own against a man, especially when they find each other irresistible."
"It was pretty hot," Morgan agrees, though not necessarily referring to the attraction between the characters. "The flames in that room were real, so filming that scene really stood out for me."
Hot and steamy proved to the watchwords for the entire cast and crew while working in tropical Puerto Rico. "It's a beautiful place, but the heat and humidity were unrelenting," Morgan attests. "Add a black suit and about 60 pounds' worth of guns and gear, and it made filming the action scenes a special challenge. You can't drink enough water because no matter where or when you're shooting, you're drenched in sweat. But the good news is you're bound to lose a lot of weight," he grins.
In planning the stunt sequences, Warren says, "I got my team together and we brainstormed to come up with some interesting, fun ways to shoot. I talked Sylvain into letting us fly him above one action scene on wires and he actually held the camera to film one of our guys doing Parkour-style moves, running and jumping over these large containers. That was a lot of fun...at least for us."
White also worked with Scott Kevan to film the action from a perspective that brings moviegoers right into the fray. The director emphasizes, "We want the audience to experience certain pivotal moments through the eyes of the characters. It's about positioning the camera inside the action and staying as close as possible to the actors. Sometimes it's limiting, and other times it opens brand new doors. It was a fine line, but I think we were able to find a good combination."
He continues, "I'm very proud of the action in this film, but what I think shines through the most is the fun tone and the great characters. I think ultimately that's what I want to leave the audience with–having had a good time with 'The Losers'...and wanting to do it again."