Aziz Ansari Cast In Ruben Fleischer's 30 Minutes Or Less. Film Inspired By Real Events?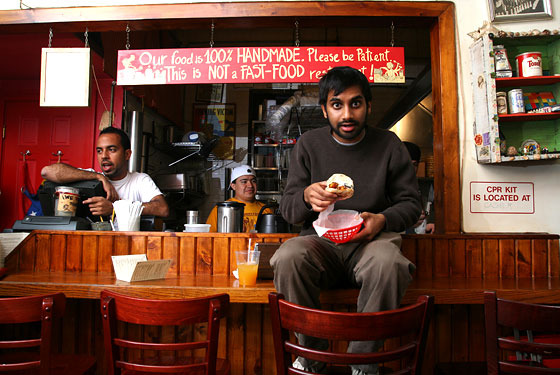 In what is shaping up to be a top shelf action comedy, tonight brings news that Aziz Ansari is in negotiations to star in 30 Minutes or Less from Zombieland director Ruben Fleischer. The dapper comedian and co-star of Parks & Rec would play a junior high school teacher thrown into a ticking clock scenario when his pal—an aimless pizza delivery man—is ordered to rob a bank by two goons who strap a bomb to his chest.
As written in the Black List-approved, R-rated script by Matthew Sullivan and Michael Diliberti (they also penned Jody Hill's planned L.A.P.I.), Ansari's character is the logical straight man to his fast driving, foul-mouthed pal named Will, a role that hasn't yet been attached to an actor. Super curious to see who lands it, along with an actress for the script's ghetto stripper character.
With his profile set to bazooka, Ansari's casting is a smart choice. The role needs an irreverent talent to deliver many a stresser button quip. (What are the chances of one of his lines earns laughs at Justin Bieber's expense?) Earlier, I wrote that Danny McBride is still rumored to be in talks to play the film's lead goon. If both Ansari and McBride join the cast, it would be the second time they appeared in the same feature film after Observe & Report, but their first in terms of spending time together on screen.
30 Minutes or Less is scheduled to begin production this summer in Grand Rapids, Michigan. Some of our readers have expressed dismay and surprise over the parallels between the script and the real life 2003 death of pizza delivery man Brian Wells, who died in the exact same situation as the screenplay/movie but was said by authorities to be complicit in the scheme. Will the film's comedy aspect lend itself to a cheesy web controversy? Several TV shows have had episodes loosely inspired by Wells's blow up, including CBS's Medium.