Alice Eve In Captain America?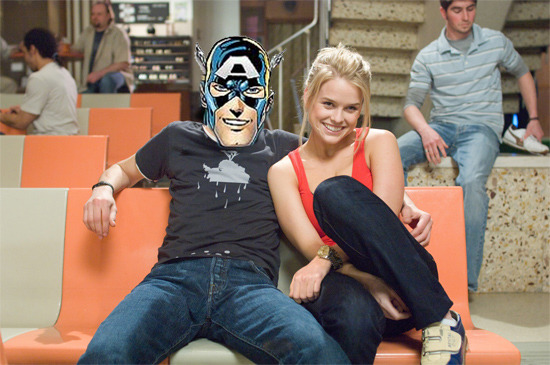 Marvel: is the top contender for the female lead role in Captain America out of your league? E! Online reports that 28-year old British actress Alice Eve has become Marvel's current top choice to play Peggy Carter in Joe Johnston's The First Avenger: Captain America.
Here is a description of the character from the comics thanks to ComicVine:
Peggy was a girlfriend of Captain America during World War II. She was also an American agent serving with the French Resistance. She has standard military training and is handy with a gun. She is also a competent spy and detective.  Recently she is residing at the LarkMoore Clinic. (Nursing home) Due to old age and possibly with Alzheimer because of her forgetful nature.
As you might recall, a couple weeks back it was reported that Marvel Studios was testing British actresses for the role, including Alice, Keira Knightley and Emily Blunt.
Last week we got official confirmation that Emily Blunt had passed on the role (probably chalked up to Marvel's notoriously small paychecks). Well it seems like Knightley has either passed or Blunt has forced Marvel to make a choice. You might not reccognize Alice Eve by name, but you might have seen her recently in She's Out of My League and the upcoming movie Sex in the City 2.
Either Marvel Entertainment has quickly become the leakiest studio in Hollywood, or the comic turned movie company is trying to guague fan response to all of their casting ideas. So, what do you think: Is Alice Eve a good Peggy Carter?