First Five Minutes Of Exit Through The Gift Shop - Peter's Favorite Movie Of Sundance 2010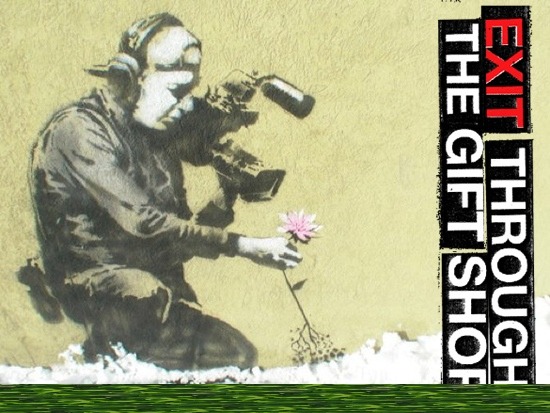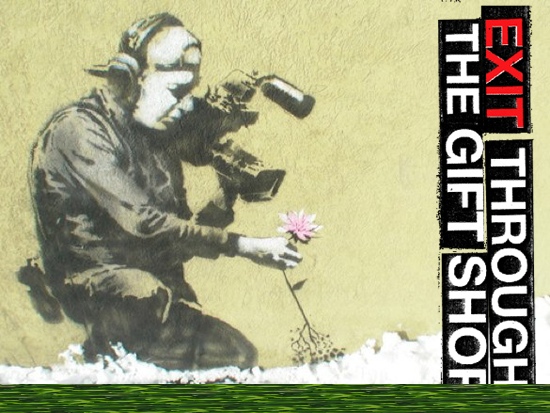 My favorite movie from the 2010 Sundance Film Festival was a documentary titled Exit Through The Gift Shop. While the project was being touted as a feature film by street artist Banksy, the film actually has no credited director. The film starts out as a documentary by a video camera-obsessed Frenchman named Thierry Guetta — With a love for street art, and connections into the scene, Thierry sets out to capture the most elusive street artists Banksy.
Of course, the film becomes something much different, and far more elaborate. I don't want to give any more away, and I recommend that you don't look for more information about the project — this is the type of film that is much better if you go into it without knowing anything about it).
The sad fact is that for many everyday cinema-goers, feature-length documentaries are a hard sell. People are willing to watch documentaries on tv or dvd, but few will pay the full ticket price to see a doc on the big screen. This is why they have released the first five minutes of Exit Through The Gift Shop online. If you think you might be interested, watch it. If you don't think this is something you should see on the big screen, watch it. I can't recommend this movie any more highly. And if you don't want to just take my word for it, the film is currently 100% on Rotten Tomatoes with 19 rated reviews filed thus far. See it as soon as you can.
The movie will be released in select theaters across the US on April 16th. Here is a list of theaters, but more are being added, so check your local listings:
April 16th:
New York: Sunshine Theater and Lincoln Plaza
Los Angeles: The Landmark and Arclight Hollywood
San Francisco: Embarcadero Landmark
Berkley: Shattuck
San Rafael: Rafael
Palo Alto: Aquarius
April 23rd:
Philadelphia: Ritz 5
Chiaco: Century
Seattle: Harvard Exit
Boston: Kendall Square
April 30th:
Minneapolis: Lagoon
Washington, DC: E Street
Baltimore: Harbor
Atlanta: Midtown Art
Denver: Mayan
San Diego: Hillcrest
Official Plot Synopsis:
Exit Through the Gift Shop, the first film by renowned graffiti artist Banksy, became the hottest ticket at the 2010 Sundance Film Festival where it made its world debut. Banksy is a graffiti artist with a global reputation whose work can be seen on walls from post—hurricane New Orleans to the separation barrier on the Palestinian West Bank. Fiercely guarding his anonymity to avoid prosecution, Banksy has so far resisted all attempts to be captured on film. Exit Through the Gift Shop tells the incredible true story of how an eccentric French shop keeper turned documentary maker attempted to locate and befriend Banksy, only to have the artist turn the camera back on its owner with spectacular results. The film contains exclusive footage of Banksy, Shepard Fairey, Invader and many of the worlds most infamous graffiti artists at work, on walls and in interview. As Banksy describes it, Its basically the story of how one man set out to film the un—filmable. And failed!
via: Collider