This Week In DVD & Blu-Ray: Bad Lieutenant: Port Of Call New Orleans, Party Down (Season 1), The Collector, And More
We may receive a commission on purchases made from links.
This Week in DVD & Blu-ray is a column that compiles all the latest info regarding new DVD and Blu-ray releases, sales, and exclusive deals from stores including Target, Best Buy and Fry's.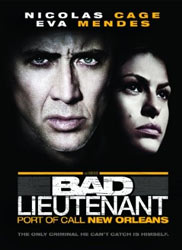 BAD LIEUTENANT: PORT OF CALL NEW ORLEANS
Never before has an actor so quickly ascended the ranks of my heavily deliberated 'greatest actors' hierarchy. Somewhere in the middle of experiencing the whacked-out lunacy that is Bad Lieutenant: Port of Call New Orleans, a realization dawned on me: even at his worst, Cage is always a joy to watch. In The Wicker Man, he wears a bear suit while assaulting women. In Knowing, he crawls into the fetal position and weeps on a bed of rocks. In Ghost Rider, he laughs and screams manically while tearing off his own face. No matter what the film, there always seems to be something about a Nicolas Cage performance that warms my heart and brings a smile to my face, even if it's for entirely unintended reasons. He may not be the most consistently talented actor, but as far as non-comedic actors go, he is definitely the most consistently funny. Port of Call New Orleans continues this trend, except this time, the effect is fully intentional. I think. In any case, it's a mad trip of a film, and though from a narrative standpoint it's kind of a mess, that style is perfectly fitting with the content at hand. It's really Cage's show all the way, allowing him to run wild as a drugged-out cop who experiences lengthy reptilian hallucinations, yanks out old ladies' oxygen tubes, and has gun-toting public sex with the women he's supposed to be arresting. Director Werner Herzog gives the film a wonderfully subversive, darkly comedic edge, but when it comes to Cage, he doesn't even attempt to harness the guy, instead opting to point him in the direction he needs to go and letting him do his thing. The final result is kind of magical.
Available on Blu-ray? Yes.Notable Extras: DVD & Blu-ray – A digital photography book, and interviews with cast/crew.
BEST DVD PRICE
Target
Best Buy
Fry's
$14.99
$14.99
$12.99
Amazon – $14.99
BEST BLU-RAY PRICE
Target
Best Buy
Fry's
$19.99
$19.99
$14.99
Amazon – $14.99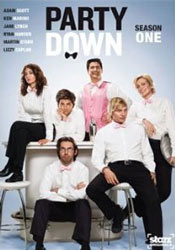 PARTY DOWN (SEASON 1)
Watch this show, people. It needs your support. More importantly, it deserves it. Party Down is easily the funniest thing to hit TV since It's Always Sunny in Philadelphia—appropriate considering both deal heavily with the failures of their "protagonists". Don't go in expecting the same sort of non-stop silliness of that show though; Party Down is far more anchored to the real world, and always manages to find humor in the most painfully honest of places. The series follows a group of caterers in LA, all of whom have failed to make it big but are still aspiring to do so regardless—either as actors, screenwriters, or the owner of their very own Soup R' Crackers. With the exception of the two central protagonists, who seem to have already accepted defeat (and are played with a wonderfully deadpan charm by Adam Scott and Lizzy Caplan), the characters are all so earnest that it's almost depressing, and the cheerily cynical tone of the show further amplifies that feeling. But by taking this sad, all-too-real group of people and injecting them in new, slightly outlandish scenarios every episode (each based around the different parties the group has to cater to), Party Down manages to strike the perfect balance between misery and hilarity.
Available on Blu-ray? No.Notable Extras: Two episode commentaries, two promotional featurettes, outtakes, a gag reel, and a deleted scene.
BEST DVD PRICE
Target
Best Buy
Fry's
N/A
$14.99
N/A
Amazon – $21.99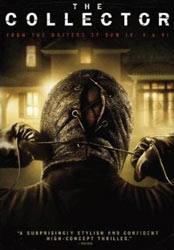 THE COLLECTOR
Though the 24% Rotten Tomatoes score may not inspire much hope, there's about as much to admire about the ultra low budget horror flick The Collector as there is to dislike. The film's premise is silly but compelling: a man tries to rob a house, only to find it covered in deadly booby traps by a serial killer who's holding the family captive. Saw fans and anyone else intrigued by that concept should keep in mind, enjoying the film will require an audience willing to forgive it for the following: a bleary-eyed protagonist with zero screen presence, a lame antagonist with poorly explained motives, a needlessly contrived & convoluted set-up, and an almost endless array of absurd improbabilities. These flaws make it impossible for The Collector to be a legitimately good movie, but director Marcus Dunstan does such a solid job maintaining the brutal pace and providing the film with an appropriately twisted, gloomy atmosphere, I found myself engaged by it regardless. Dunstan also handles the setting incredibly well, giving a great sense of space within the house and in turn making the cat-and-mouse antics all the more exciting. I would not be surprised to see the film become a cult classic amongst horror fans.
Available on Blu-ray? Yes.Notable Extras: DVD & Blu-ray – An audio commentary, deleted scenes, and an alternate ending.
BEST DVD PRICE
Target
Best Buy
Fry's
$19.99
$19.99
$16.66
BEST BLU-RAY PRICE
Target
Best Buy
Fry's
N/A
$22.99
$20.00
Other noteworthy DVD (and Blu-ray) releases this week...
The Lord of the Rings (1978 Animated Movie) (Remastered Deluxe Edition) [DVD / Blu-ray] – The Unusuals (The Complete Series) – Battlestar Galactica: The Complete Series (Repackaged) [DVD / Blu-ray] – Taxidermia
Noteworthy Blu-ray-specific releases this week...The Lord of the Rings: The Motion Picture Trilogy (Theatrical Editions) – Battlestar Galactica (Season 2) – The Natural – The Thomas Crown Affair – The Protector – Cocoon – Flight of the Intruder – Dreamscape

NOTES: Some deals may be in-store only. All deals are for DVDs unless otherwise noted.

$17.99 – Blu-ray sale: Fight Club, Coraline, Taken, The Bourne Ultimatum, Gladiator, Braveheart, Quantum of Solace

Exclusive: The Lord of the Rings: The Motion Picture Trilogy Blu-ray set with Andruil Sword Letter Opener in a special keepsake box ($74.99).$9.99 – Blu-ray sale: A History of Violence, The Lost Boys, The Running Man, Transporter 2, Behind Enemy Lines, Entrapment, Righteous Kill, Blow, Firewall

$8.99 – Blu-ray sale: Sideways, The Girl Next Door, Men of Honor, The League of Extraordinary Gentlemen, Daredevil, Out of Time, From Hell, Kiss of the Dragon, and more...$11.99 – Blu-ray sale: X-Men, X2, X-Men: The Last Stand, Jumper, Die Hard 2, Die Hard with a Vengeance, Say Anything, There's Something About Mary