Prince Of Persia Scribes Writing National Treasure 3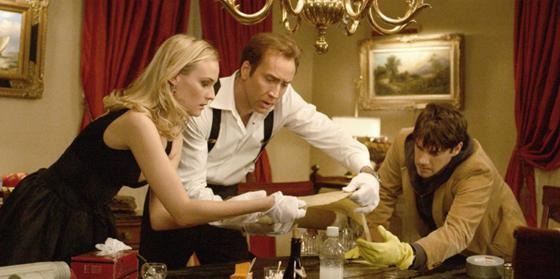 Just prior to being fired, former Disney chairman Dick Cook announced National Treasure 3. For a moment, there was some doubt as to whether the third film would still be made after Cook was ousted. But with almost $800m in global ticket sales between the first two films, yes, it is happening. Again. And the guys who wrote Prince of Persia: The Sands of Time for producer Jerry Bruckheimer are going to be the idea men.
ComingSoon learned at WonderCon that Carlo Bernard and Doug Miro, who wrote both Prince of Persia and The Sorcerer's Apprentice, are going to write the third film. They're the new Elliott and Rossio, it would seem. (In addition to writing the three Pirates of the Caribbean movies, Elliott and Rossio wrote the story for the second National Treasure film.)
A couple years ago, when the possibility of a third and fourth film first came up, there was talk that #3 would send Nic Cage to Atlantis. But that's not the case, as has been asserted by Jon Turtletaub as he promotes The Sorcerer's Apprentice. I'm not sure they know what the movie is about, but it isn't Atlantis. That was just a product of the Internet, Turtletaub claims.
The third film would presumably bring back Nicolas Cage along with co-stars Justin Bartha and Diane Kruger, but we don't know anything for certain. I'd hope that this one might push just a little bit more towards crazy — with just a little tweak this series could be a vehicle for some great crazy Nic Cage exploits. So far, the two movies have just been watchable, easily digested and relatively forgettable ways to pass the time. Not bad, but also not fun or imaginative enough to be relly memorable. But who am I to deny a big paycheck gig to a handful of actors and other talent?