Posters And Info For Bruce McDonald's 'Women In Prison' Flick Lucky Ho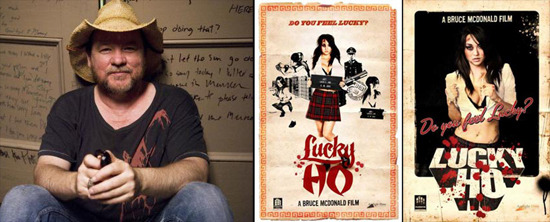 Bruce McDonald isn't really a household name, especially outside Canada. Let's try to change that. McDonald is a versatile, ambitious filmmaker with a rock and roll spirit who has been experimenting in features and TV for more than twenty years. In 1991 or '92 I saw his film Highway 61, an oddball road trip music comedy written by and starring Don McKellar, and it launched me into fandom for McDonald.
Since then I've been impressed by films like Hard Core Logo, The Tracy Fragments and Pontypool. And I'm eternally on the hook for McDonald's long in development adaptation of Chester Brown's comic book Yummy Fur, which could be one of the most beautiful, wrong stories to hit the screen.
We knew that he would be shooting a 'women in prison' flick called Lucky Ho later this summer. (Is the title a reference to the Shaw Brothers flick Dirty Ho?) Now there is an extensive synopsis for the film and a set of posters that make McDonald's grindhouse aspirations clear.
Not that all of McDonald's aspirations are sleazy grindhouse, but this one definitely seems to be. The Foundation Features website has this new material but first let's go back to a quote The Playlist got out of the filmmaker during SXSW. McDonald said then,
[It's] a women's prison martial arts project...It's awesome. It's kind of filthy, hilarious and wrong. We gotta find some totally smoking hot Chinese babe who can kick ass and be naked in the shower a lot.
Now it seems like he might have found his actress, though since there's no name on the poster I'm wondering if that might just be a hot stand-in babe.
Here's the synopsis for Lucky Ho, which is written by Rebecca Russell. And before we're over and out on this one, definitely rent Highway 61, Hard Core Logo and Pontypool as entry points to McDonald's career. He also produced and directed Twitch City, the slightly kooky TV show that featured Don McKellar and  gave really great parts to Molly Parker and Callum Keith Rennie.
Tough, sexy, smart. A young Kung Fu prodigy. Meet LUCKY HO, the eighteen year-old schoolgirl who will break your heart with a smile and break your neck with a flick of her wrist.When her mother passes away suddenly, Lucky is left alone to fend for her younger sister, TRACEY, in a world of male predators and female competitors. As a defender of the underdog set, Lucky tries to stay cool, but her explosive temper keeps the stakes hot and attracts plenty of trouble. Lucky watches her dreams of getting into Harvard go up in smoke as she is expelled, and the day only gets worse when she comes home to find a drunken Tracey in the hands of their disgusting stepfather and his friends. The tension escalates into the night as threats and anger turn ugly and result in Lucky being unfairly charged for murder.
Life on death row is no day at the prom. Lucky finds herself being thrown into a bizarre underworld filled with transvestites, bull dykes and a corrupt warden with a "passion" for his female prisoners – especially newcomer Lucky. The evil warden proffers an after hours fight club where the female inmates are pitted against each other in a gruesome battle to the death. Lucky will have to fight like never before because among these crazy inhabitants, fighting is more than survival, it's pure entertainment. As Lucky trains to combat some of the meanest inmates in prison history, only one thing keeps her going: escaping and saving Tracey from their corrupt step father. Lucky's steel will and exceptional skill will help her to overcome the dark forces that conspire against her in a world that doesn't seem to want to give her a chance.
Heads will roll. High kicks will fly. Cross-dressing fashionistas will serenade bloody victories and shower brawls. From knee socks and numchucks to shakedowns and chop-ups, every fight brings Lucky one step closer to freedom...