The A-Team Movie Trailer #2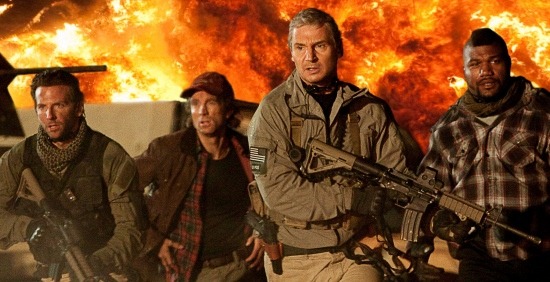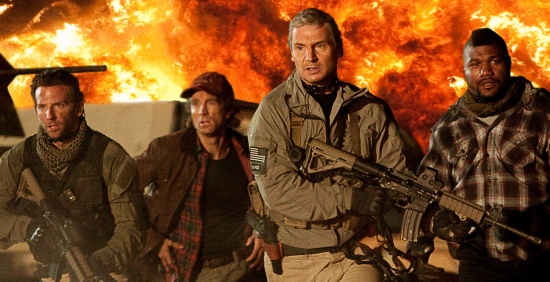 20th Century Fox has released a new movie trailer and poster for Joe Carnahan's big screen feature film version of The A-Team. The film features Liam Neeson as Col. John "Hannibal" Smith, Bradley Cooper as the playboy mercenary role of Lt. Templeton "Faceman" Peck, Sharlto Copley as Capt. 'Howling Mad' Murdock, and UFC champion Quinton "Rampage" Jackson as B.A. Baracus.
This is the first trailer since the 100 second teaser trailer released in January. 100 seconds was enough to make us wondering why people were firing guns on tanks falling from the sky. This is the A-Team movie, not Stephen Sommer's GI Joe 2, right? The new trailer gives us a much better look at the film's plot and characters. The whole thing looks a bit more parody than homage, and less like the original 1980's tv show and more like every action movie of the last five years. And yes, Bradley Cooper is still firing a gun at an airplane from a tank falling from the sky. I guess we'll just go with it.
Watch the trailer now after the jump, and please leave your thoughts in the comments below!
Watch the trailer in High Definition on Apple. The A-Team hits theaters on June 11th 2010.
Based on the 1980's television series, The A-Team movie will follow a group of Iraq War veterans (changed from Vietnam) who are trying to clear their name with the U.S. military. They were arrested for committing a crime for which they were framed, and break out of a maximum-security stockade to clear their name . The original series, which ran from 1983-87, starred George Peppard, Mr. T, Dirk Benedict and Dwight Schultz. Joe Carnahan is directing.