Possible First Look: Yogi Bear
removed at request from WB
/Film reader Dave BC sent over a link to some photos which claim to be from the hybrid live-action/computer animated feature adaptation Yogi Bear. I'm unable to verify if these are real or not, but they sure look like it. If you know anything, shoot me an email or comment below. They also look very faithful to the originally Hanna-Barbera creations.
removed at request from WB
Here is a comparison to the cartoon versions: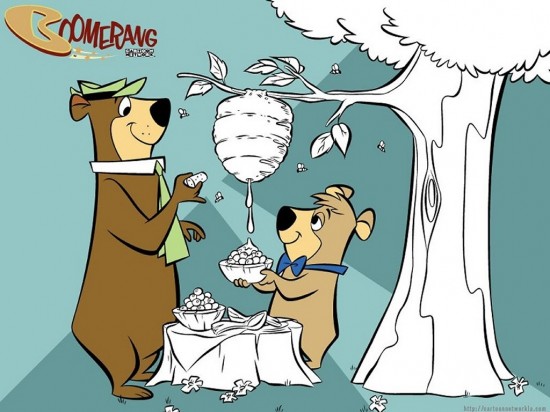 The film stars Rachel (Anna Faris), as a nature documentary filmmaker who is trying to film Yogi and Boo-Boo for her next project. Dan Aykroyd will voice the computer animated Yogi, the lovable Jellystone Park bear who is notorious for his attempts at stealing picnic baskets from campers, much to the displeasure of Park Ranger Smith (Tom Carvanagh), who just also happens to be the romantic interest of Rachel. And Justin Timberlake will voice the computer animated Boo-Boo, a bow-tied bear cub who acts as Yogi's constant companion and conscience. And Andy Daly plays Mayor Brown, who has frivolously run his city's budget into the red and wants to sell Jelly Stone Park to make some cash.
The big screen 3D movie is being directed by Eric Brevig (Journey to the Center of the Earth), from a screenplay by Brad Copeland (Wild Hogs). The film is currently filming in New Zealand . Warner Bros is aiming for a December 17th 2010 release.