Cast Returns For The Hangover Sequel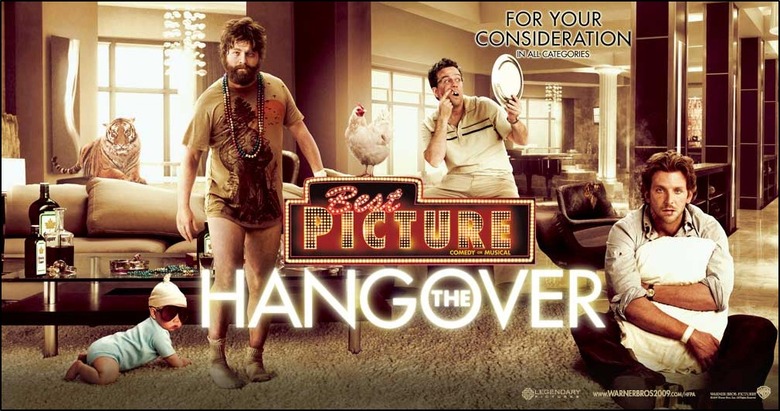 Weeks after the monster success of The Hangover, Warner Bros and director Todd Phillips began talking about a sequel. Since then we've heard rumors that the story might be set somewhere outside of Las Vegas, possibly in Thailand. But while Phillips has promised that all the original cast would "definitely be returning for another adventure", some stars have seemed reluctant in interviews. Warner Bros never thought the comedy would spawn a franchise, and didn't lock/option the actors up for additional films. But if there were ever any doubt, it was quashed when last month we learned that Bradley Cooper pulled out of McG's romantic comedy called This Means War because it conflicted with Hangover 2's then July start date.
Deadline now confirms that Bradley Cooper, Ed Helms, and Zach Galifianakis are all now officially signed for the next adventure and each actor will be paid in "the vicinity of $5 million against 4% of first dollar gross." In contrast, the trio earned less than $1 million collectively for the first film. They're moving on up.
Director/producer Todd Phillips famously forfeited his upfront fee in exchange for more than 15% of the film's overall revenue so that he could make the original for $34 million with a somewhat unknown cast. The original film ended up making $277.3 million domestically, $190 internationally, for a worldwide total of $467.3 million. The gamble paid off, and Phillips has probably cashed checks in excess of the film's budget at this point (considering the film's box office, dvd/blu-ray sales and merchandising). Phillips will be paid $10 million against 10% for the second film. So with the sequel, over $25 million is going to the main three cast members and director/producer alone, and lets not forger 20% of the first dollar gross. The first film was made for $34 million, all in.
When asked about the Thailand rumor at ShoWest, Phillips told Collider:
I don't know. There's a lot of rumors. There was rumor also that it was going to Mexico or something and neither are true.
Warner Bros hopes to begin production in October, aiming for a Memorial Day weekend 2011 release.