This Week In DVD & Blu-Ray: Sherlock Holmes, An Education, The Baader Meinhof Complex, And More
We may receive a commission on purchases made from links.
This Week in DVD & Blu-ray is a column that compiles all the latest info regarding new DVD and Blu-ray releases, sales, and exclusive deals from stores including Target, Best Buy and Fry's.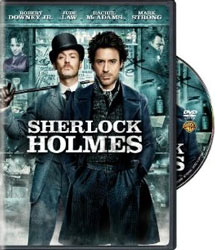 SHERLOCK HOLMES
Robert Downey Jr. charms and amuses yet again, and composer Hans Zimmer offers up a wonderfully oddball score, introducing the world to a new subgenre of music: neo-classical gypsy folk synth. This knockout pairing breathes considerable life into Sherlock Holmes, a film which otherwise feels strictly perfunctory—so mechanical in structure and storyline that I can only imagine a studio exec was at the ready to quickly nix even the slightest deviations from formula. Director Guy Ritchie keeps it all moving at a quick enough pace, but going through the motions swiftly is still going through the motions. Even the revelation at the end of the movie seems like an afterthought, with the film focusing far more on its obligatory cliffhanger set piece climax than Holmes' crime-solving abilities. Sherlock Holmes is perfectly sufficient attention-diverting entertainment, but is it something I plan to revisit? Was I ever emotionally invested? Did I have loads of fun watching it? Would I go gay for Robert Downey Jr.? No, no, not really, and most definitely.
Available on Blu-ray? Yes.
Notable Extras: DVD – A Sherlock Holmes: Reinvented featurette. Blu-ray – Includes everything on the DVD, as well as WB Maximum Movie Mode (Director Guy Ritchie Walk On, PIP, Focus Points, Storyboard Comparisons, Still Gallery Timeline), deleted scenes, and a digital copy of the film.
EXCLUSIVE DEAL:
What? Deluxe DVD ($22.99) includes collectible comic book.
Where? Target.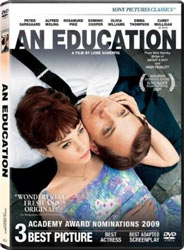 AN EDUCATION
An Education takes a tired, old story—in this case, a tale about a young girl being seduced by a much older gentleman—and tells it incredibly well. It works because, as that young girl is seduced by that older gent, so too are we. In spite of the recurring twinges of creepiness inherent in the material (not helped by there being only one way the story can possibly end), the film plays like a fun, brisk lark. The girl, played with cheery aplomb by Oscar nominee Carey Mulligan (and deserving of the win far more than Sandra Bullock), is smart and assured, and is far more reasonable in her decision-making process than any of the other ladies from stories of this ilk. This is a key difference, as it allows the viewer to legitimately empathize with the protagonist, instead of forcing us to sit idly by as she acts out in irrational and stupid ways. If I have one nitpick, it's that the ending is a little too pat, downplaying the turn of events to such a degree that it's as though nothing has happened at all.
Available on Blu-ray? Yes.
Notable Extras: DVD & Blu-ray – A commentary with director Lone Scherfig and actors Carey Mulligan and Peter Sarsgaard, 2 featurettes ("The Making Of An Education", "Walking the Red Carpet"), and deleted scenes.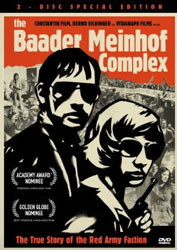 THE BAADER MEINHOF COMPLEX
Nominated for Best Foreign Film at the Oscars and garnering an 87% on Rotten Tomatoes, The Baader Meinhof Complex tells the true story of the early years of the West German militant group the Red Army Faction. Even in reading the positive reviews, this sounds like something that would not appeal to me at all. The intent seems to have been taking all of the information available and then recreating it onscreen, with little in the way of characterization, motivation, or examination. Some may be fine with that—or most, considering how well received the film has been—but personally, I prefer more focused, intimate narratives. (Comments from those that have seen the film are encouraged. Am I way off base? Share your thoughts below.)
Available on Blu-ray? Yes.
Notable Extras: DVD & Blu-ray – How The Film Came About: The Baader Meinhof Complex, Interview with author Stefan Aust, Interview with writer and producer Bernd Eichinger, The Actors on their roles, Scoring Baader, On Authenticity, and Behind The Scenes.
ALVIN AND THE CHIPMUNKS: THE SQUEAKQUEL
Alvin and the Chipmunks could've bombed at the box office, and I still don't think the studios would've passed up the opportunity to use that damn "squeakquel" subtitle. As a self-proclaimed pun connoisseur, I endure mild heart palpitations every time I hear it uttered. On the bright side, I suppose it's slightly less insufferable than some of the taglines we've been getting for other kid's films.
Available on Blu-ray? Yes.
Notable Extras: DVD – 2 featurettes ("Munk Music Machine", "Music Mania"). Blu-ray – Includes everything on the DVD, as well as additional features ("Munking History : 50 Years of Chipmunk Mischief, Mayhem & Music", "Meet the Chipettes", "Rockin' Rising Stars", "Chipmunks: Behind the Squeaking", "A-NUT-omy of a Scene", "Meet the Stuffies", "Shake Your Groove Thing! With Rosero"), a copy of the DVD, and a digital copy of the film.
Other noteworthy DVD (and Blu-ray) releases this week...
I Sell the Dead [DVD / Blu-ray] – Afghan Star – Yes Men Fix the World – 3 Idiots – The Killer [DVD / Blu-ray] – Alice in Wonderland (2-Disc Special Edition) – Letters from Fontainhas (Criterion Collection)
Noteworthy Blu-ray-specific releases this week...

NOTES: Some deals may be in-store only. All deals are for DVDs unless otherwise noted.

$9.99 – Blu-ray sale: Hellboy II, Serenity, Edward Scissorhands, American Gangster, Death Race, Blow, Super Troopers, 2010
$13.99 – Blu-ray sale: 500 Days of Summer, Whip It, The Matrix, Watchmen (Director's Cut), Gran Torino, and more...
$14.99 – How I Met Your Mother (Season 1 – 4), It's Always Sunny in Philadelphia (Season 1 – 4), 30 Rock (Season 1 – 2), Friends (Season 1 – 10), Family Guy (Season 3 – 7), The Big Bang Theory (Season 1 – 2), I Love Lucy (Season 3 – 4)
$17.99 – Mad Men (Season 3), Weeds (Season 1 – 5), Sons of Anarchy (Season 1), Burn Notice (Season 1 – 2), House (Season 4), Monk (Season 8), Glee (Season 1, Vol. 1)

$9.99 – Blu-ray sale: Be Kind Rewind, The Transporter, Ocean's Thirteen, Pandorum, The Mask

$6.99 – Blade Runner: The Final Cut (2-Disc Special Edition), Watchmen, Friday the 13th, Yes Man, and more...