Release Date And Info On Banksy's Film Exit Through The Gift Shop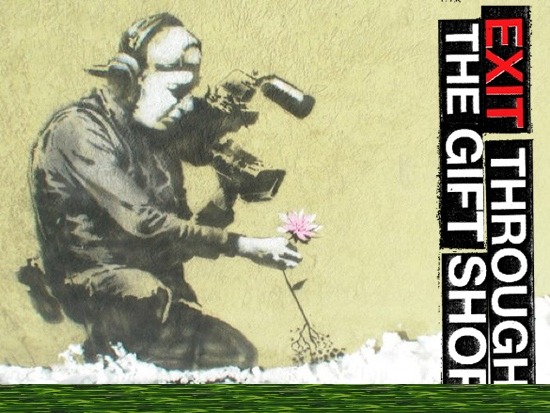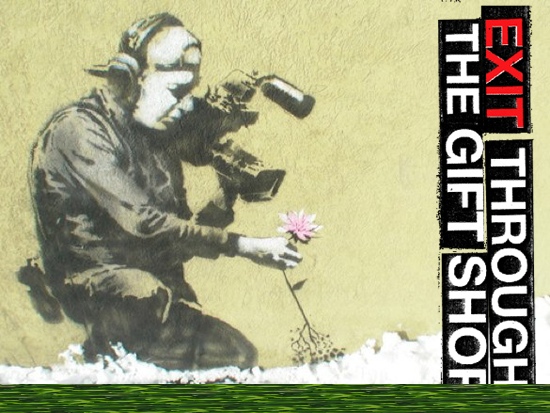 One of the closest things to a sensation at Sundance this year was Exit Through the Gift Shop, the film that is a documentary both by and about the reclusive and anonymous British graffiti artist Banksy. Now the film is getting an interesting release strategy that will have it in three cinemas on April 19 and expanding to more thereafter.
Deadline reports that Producers Distribution Agency will release the film in New York, LA and San Francisco on the April 16 date, then "slowly platform to other cities." Why is this unusual? Most films that make distribution deals do so based in large part on a significant ad and promotion commitment. This does away with much of that aspect of the deal; PDA (run by John Sloss of Cinetic Media, which repped the film at Sundance) will handle booking and promo on a small scale. This setup will rely more on low-key media promotion and word of mouth, which is much more in keeping with Banksy's work.
So is this deal, which amounts to a "we're releasing it ourselves" setup, being made because the film didn't attract conventional attention at Sundance, or did the film not attract conventional attention because it requires a unique release plan? The chicken, or the egg? Does it matter? Notes on the film almost unanimously praise it as a picture worth seeing, and the fact that it is going out on a small scale might actually mean that more people get to see it in a theater. I'll be curious to see what deals are made for DVD and on demand showings.
Exit Through the Gift Shop started out as a film involving Terry Guetta, aka Mr. Brainwash, who tried to make a film about Banksy. But supposedly things took a turn and Bansky ended up making a film about Guetta, whose work as Mr. Brainwash is quite deliberately cribbed from the more famous Banksy.
The official synopsis:
Exit Through the Gift Shop is the story of how an eccentric French shop keeper and amateur film maker attempted to locate and befriend Banksy. Billed as 'the world's first street art disaster movie' the film contains exclusive footage of Banksy, Shephard Fairey, Invader and many of the world's most infamous graffiti artists at work. "It's the story ofhow one man set out to film the un-filmable. And failed". – Banksy.